Nursery ratios raised 'to improve standards'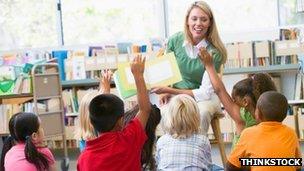 Nurseries and childminders in England are to be allowed to look after more children, in a package ministers say will improve quality and cut costs.
The ratio of children to carers can be raised, but only if carers' qualifications meet new standards.
Children's Minister Liz Truss said the proposals would make more childcare places available and reduce costs for parents in the "long term".
Critics warn the change in ratios could actually compromise quality of care.
They also predict the changes - which are due to come into force in the autumn - will be unpopular with parents and are unlikely to reduce the overall costs of childcare.
Statutory ratios for carers per child vary depending on age and setting. Ratios for two-year-olds are set to rise from four children per adult to six children per adult, and for ones-and-under to rise from three children per adult to four children per adult.
Ratios for three-year-olds and over would remain at eight or 13 children per adult, depending on whether a qualified graduate was present.
Ms Truss says the changes will bring the UK in line with countries such as France and Sweden. England's higher ratios lead to higher costs for parents and lower pay for staff, she says.
Ms Truss told the BBC the proposals were about raising standards and only those nurseries that hired staff with higher qualifications would be able to take on more children.
"It will make it higher quality, more available and more affordable. It will take time to recruit new people and expand nurseries. In the long term it will be more affordable," she said.
Britain has some of the highest childcare costs in the world, with many mothers with two or more children saying it does not make financial sense to work.
An earlier report by Ms Truss suggested the average family spends 27% of their income on childcare.
Ms Truss said childcare professionals should be better qualified in the UK.
"When parents hand their child over to the care of a childminder or nursery, they are not just entrusting them with their child's physical safety, they are also entrusting their child's brain," she said
"With this in mind, it is no longer acceptable that childcare professionals are not required to have a GCSE grade C or above in English and maths."
This will apply to new nursery staff only, however.
Shadow education secretary Stephen Twigg said the plans to increase the ratios would undermine the quality of childcare in the UK.
"I think this is one area where we've actually got something to teach other countries.
"If you look at France, there's actually quite a big public debate about whether they've got this right. I don't think you can compare the situation with Sweden where they have very, very generous parental leave so very few young babies are in these sorts of settings."
Kent-based nursery manager Josie Lait is sceptical about the plans, saying fewer adults would jeopardise the quality of care and the safety of children.
"I feel it isn't realistic to change the ratios because the quality will go down dramatically.
"And if you have people who are better qualified, costs will go up, so how will parents benefit?
"I wouldn't want to enforce it [new ratios] myself, I wouldn't want my setting to change."
Anand Shukla, from national childcare charity Daycare Trust, said: "No matter how well qualified the members of staff, there are practical considerations when you increase the number of children that they have to look after," he said.
"For one person to look after six two-year-olds, for one person to talk to six two-year-olds, to help their language development, we think is going to be very difficult."
National Day Nurseries Association chief executive Purnima Tanuku welcomed the commitment made by the government to improve childcare but said the "quality of childcare and early education must not be sacrificed".
She said: "Many parents do not want an increase in the number of children nursery staff are allowed look after. They are worried it will have a negative impact on the individual attention and care their child receives."
Anne Longfield, chief executive of children's charity and nursery provider 4Children, said: "The welfare of the child must be our first concern throughout, but with highly qualified early-years teachers and a better inspection regime, there is an opportunity to review current arrangements and provide simpler information for parents and better incentives for providers to concentrate on what matters - children."
In Wales, the maximum number of children a child minder can care is six children under eight years of age. Of those six children, no more than three may be under five years of and of those three children, normally no more than two may be under 18 months of age.
In Welsh nurseries, there should be one adult to three children under two years, one adult to four children aged two years and one adult to eight children aged three to seven years.
Related Internet Links
The BBC is not responsible for the content of external sites.