Planning changes could see free schools in shops and offices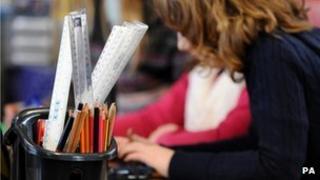 Changes to planning rules in England will make it easier for free schools to open in offices, hotels and shops from this summer, the government has confirmed.
They will mean the new state-funded independent schools will be able to operate in buildings for a year without having permission to change their use.
Ministers want to remove barriers to the opening of free schools.
But critics are warning pupils' safety might be sacrificed.
The changes have been in the pipeline since the launch of the free-school programme after the general election of 2010.
Ministers were concerned the programme was being held back because groups coming forward to set up free schools could not find suitable premises where there was permission to have a school.
Free schools are funded by central government but can be set up by various groups, including charities, parents and businesses, where they can show a need for a new school. They cannot be run for profit.
There are about 80 free schools open in England now, with another 100 planned to open in September.
The changes are being announced in parliament.
They will allow free schools to open in buildings that have not yet been approved for "change of use" by the local council.
'Ideological interests'
Government officials say this will mean free schools - and any other state-funded school - can open "in almost any building for a year without needing planning permission".
They say the changes will also allow schools to open permanently in a wider range of buildings - such as offices and hotels, once local councils have made a "limited assessment that will consider noise and traffic issues".
Education Secretary Michael Gove said: "I want to make it as easy as possible for free school proposers not only to find buildings but move into them.
"Enabling free schools to move into their preferred site more quickly will mean they can concentrate on raising standards and providing parents with an excellent school place for their child."
The charity which supports groups wishing to set up free schools says too many applications have been held up by councils opposed to free schools.
New Schools Network director Natalie Evans said: "This is extremely welcome news for the hundreds of teachers, parents and community groups who continue to come forward wanting a better education for their children.
"Local councillors and planners who wish to deny parents choice in the education of their children will no longer be able to hide behind the fig leaf of preventative planning regulations in their attempt to block new schools."
Shadow Education Secretary Labour's Stephen Twigg said the quality of school buildings could make a difference to education.
"Sadly this government seems more interested in setting up schools in pubs and warehouses," he said.
"We need to ensure safety and a good learning environment are not sacrificed for dogma."
Christine Blower, general secretary of the National Union of Teachers, said: "It is the right of every child to attend a school that is in suitable premises that are fit for purpose and where their health and safety can, as far as possible, be assured.
"Parents will not consider these aims to be bureaucratic 'red tape' but sensible measures to ensure their children are properly safeguarded whilst at school."
Co-founder of the Education Foundation think tank Ty Goddard said there was a "serious shortage" of school places in parts of England, especially in London, that needed addressing.
But he added: "We also need to make sure that any spaces used for education are safe for teachers and children. Common sense and creativity should be our watchwords."