Warning over international student drop in numbers
By Katherine Sellgren
BBC News education reporter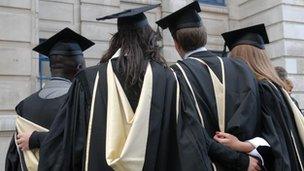 "Negative rhetoric" from the government is deterring international students from applying to UK universities, says a university vice-chancellor.
Prof Edward Acton, vice-chancellor of the University of East Anglia, warns of a sharp fall in the UK's share of the international student market.
Similar concerns have been raised by Dr Wendy Piatt, director general of the Russell Group of leading universities.
The government says tougher regulation of net migration is necessary.
Under new visa regulations that came into force in April, students face tougher questions about their destination, limits on their ability to work and harder questions on their English-language capability.
Earlier this month, figures from the Higher Education Statistics Agency (Hesa) showed the number of Indian students studying at UK universities has contracted by 23.5%.
The drop in applications for courses starting this month also follows the murder of Indian student Anuj Bidve in Manchester last Christmas.
But university leaders say the government's immigration clampdown is the decisive factor.
Prof Acton blames the Home Office for its "negative rhetoric" and "regressive" policies.
Speaking at the Improving International Student Experience conference in central London, he said the higher education sector must pick up the government's "slack".
"It has never been more urgent to underline the warmth of the UK welcome to overseas students," said Prof Acton.
"Negative Home Office rhetoric needs to be vigorously countered by bringing home the quality and the personal care available at British universities."
Prof Acton said the research-intensive 1994 Group universities were well-placed to lead the recovery.
"The advantages characteristic of 1994 Group universities with their combination of research intensity and personal attention for individual students means that they are particularly adept at ensuring that students from abroad are integrated socially, stretched intellectually and benefit to the full from studying here."
Meanwhile, the government has set up a new unit to encourage countries, including India and those in the Middle East, to use services linked to the UK's education system.
Ministers said there was a growing demand for UK education from abroad which was not being exploited to the full.
Education exports are currently worth more than £14bn a year and could rise to £27bn by 2025, it was estimated.
Speaking on a visit to India to promote vocational education, Skills Minister Matthew Hancock said: "It is essential that we realise the potential of the largely untapped resource that is our education exports.
"There is a fast-growing demand for high-quality education, and we are lucky to have a dynamic and entrepreneurial sector that is well placed to contribute.
"We are in a global race and other countries are presenting attractive and co-ordinated offers, so 'Education UK' is a vital step in bringing together the UK sector to drive its international engagement, particularly on high-value opportunities."
Related Internet Links
The BBC is not responsible for the content of external sites.