AC Grayling seeks to open free school in north London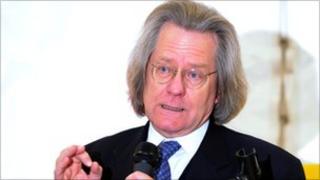 The philosopher AC Grayling has joined forces with a private education firm in a bid to open a free school in London.
The professor, who is also master of the private New College of the Humanities, is working with Bellevue Education to set up the state-funded private school.
Bellevue runs two boarding schools in Switzerland and eight private schools in the UK.
The would-be founders say the school would be for pupils of all backgrounds.
If the bid is successful, the New School of the Humanities will be an 11-18 co-educational secondary school opening in 2014 with 100 students.
'Elite', not 'exclusive'
By 2020 it is forecasting it will be full with 740 students on the roll.
It is promising would-be parents small class sizes and a centre of excellence in the humanities. Crucially, as in all free schools pupils would attend for free.
Professor AC Grayling set up the private New College of Humanities, which charges students annual fees of £18,000 for degree courses.
He says his college is "elite" but not "exclusive", but critics disagree, saying it is only open to those wishing to pay the fees - which are double the top fee state-funded universities are allowed to charge.
He said the new free school, which will be known as the New School of the Humanities, would provide a thorough grounding in the curriculum "while allowing students to develop as imaginative and well-rounded individuals".
"We are each neighbours, friends, travellers, readers; we need to be aware of the story of humankind, its problems and possibilities, the debates and discoveries that have shaped it, and how they can be part of our own lives.
"New School of the Humanities will address these needs by offering a richly formative education with genuine breadth and depth."
Mark Malley, chief executive of Bellevue Education Group, said its schools provided world class education with a broad curriculum.
"Bellevue Education believes that parental choice in education is hugely important and we are looking forward to providing families in Camden with this new, innovative school," he added.
The Department for Education would not comment on the application or confirm whether it had been received.
Officials are due to look at all free school applications and check the suitability of would-be founders. Applications assessed to be the strongest will be invited to interview before a final decision is made.
Secondary free schools opening in 2013 will receive £300,000 in set-up costs, and then receive their day-to-day funding from the government. Primaries receive £220,000 for set-up costs.
Christine Blower, general secretary of the National Union of Teachers, said free schools were a 'pet project' of the education secretary "which siphons off vital funds that should instead be used for the benefit of existing schools".
"In this case, as with too many proposals before it, efforts are being made to open a free school in an area with surplus secondary school places. This bid will simply endanger existing schools. It is wholly unnecessary."