Universities told to reach out to primary school pupils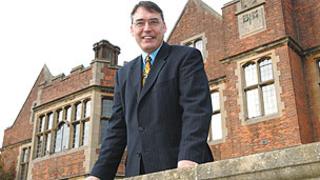 Universities are being told by the fair access watchdog to reach out to children as young as seven.
The Office for Fair Access (Offa) says that the work of widening university participation needs to begin with a younger age group.
It says universities wanting to charge higher fees should "raise the aspirations" of such young children.
"We are keen to see more long-term schemes that start at a younger age," says Offa director Les Ebdon.
Offa is publishing guidance for access agreements for 2014-15. These set out how universities should attract students from poorer backgrounds - and without them universities are not allowed to charge above a basic tuition fee.
'Taste of university'
For the first time these will now have to include plans for "long-term outreach activity" showing how universities will work with children from the age of seven upwards.
This might mean campus visits that "give a taste of university life" or running projects that develop interest in particular subjects.
Prof Ebdon says that many outreach programmes focus on teenagers, who might already have an interest in going to university. He wants universities to attract more pupils who might otherwise not have considered higher education - and says that this means reaching them at an earlier age.
"It's crucial that outreach encompasses those who are not yet on the pathway to higher education as well as those who are already considering it," he said.
Offa's access agreements will also put an emphasis on universities evaluating and measuring the success or otherwise of their outreach work, so that they can show what works.
Alex Bols, executive director of the 1994 Group of research intensive universities, agreed in principle with the idea that universities needed to engage with potential students at an earlier age.
'Lack of advice'
But he called on the government to develop a way of tracking youngsters through school to measure the success of such projects.
"This more nuanced, longer-term data cannot be collected by universities. Only the government is in a position to track the impact of university outreach over a decade of a young person's life, from the age of seven to 17," he said.
Wendy Piatt, director general of the Russell Group of leading universities, also backed the calls for more work with younger age groups.
"That's why many of our members already sponsor academies and work directly with schools, including with pupils from a young age or where there is little history of young people progressing to leading universities," said Dr Piatt.
But she also highlighted that the main underlying reasons for under-representation of poorer students was because of lower results in school and a lack of advice.