Ex-minister Tim Loughton says children's agenda sidelined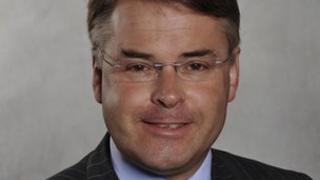 England's former Children's Minister Tim Loughton has said important issues affecting children have been sidelined as the government prioritises a shake-up of schools.
He said the children's agenda had lost out to "the bulldozer that was the school reform programme".
Mr Loughton lost his job in the last reshuffle.
He said it was "deeply worrying" there had been "complete silence" on child sex abuse from his old department.
Mr Loughton said the Savile case and cases of gangs sexually exploiting children had given the issue its highest ever media profile, but the issue was losing out to other priorities in the Department for Education, which also has overall responsibility for children in general.
The government has denied the claims, saying children's welfare is at the heart of its "wide ranging reforms".
Mr Loughton made the comments to MPs on the Education Select Committee, where he appeared alongside two other ministers from the department who also lost their jobs in a reshuffle in September.
He told them children and families' issues had become a "declining priority" in the department, despite unprecedented public concern.
Asked why he was sacked, Mr Loughton said: "Your guess is as good as mine".
He added that a meeting with the Prime Minister before Christmas had left him "none the wiser".
'Unfounded claims'
The Conservative MP told the committee he had been "frustrated" that some planned policy changes he had seen as priorities were not taken up by the government.
They included changes to child safeguarding and youth initiatives.
Mr Loughton appeared before MPs shortly before two other ex-ministers, the Conservative Nick Gibb and the Liberal Democrat Sarah Teather.
Ms Teather told MPs she had felt the Secretary of State Michael Gove had clearly been focused on the schools shake-up, but had allowed ministers "to get on with their jobs" and had regularly gone "in to bat" to support her in pushing forward changes in her area.
The Department for Education later said the claim that it was sidelining the children's agenda was "completely unfounded" and that children's welfare was "at the heart of this government's wide ranging reforms".
A spokesman said: "We are making radical changes which include taking action to better protect children in care, speeding up the adoption process, focusing child protection on the child rather than the process and make childcare more affordable.
"Children's Minister Edward Timpson is regularly meeting with child protection leaders to ensure momentum is being maintained on the government's Child Sexual Exploitation Action Plan so we are better able to raise awareness, support victims and put more abusers behind bars."
'Grace Brothers'
Government adviser on adoption Sir Martin Narey also disagreed with Mr Loughton's views about priorities at his old department.
On Twitter he said: "Good Min as he was [Tim Loughton] I don't share view. Gove committed to adoption and care reforms. He's given me lots of time."
Shadow minister for children, Labour's Lisa Nandy, said Mr Loughton had raised a "serious issue".
"Experts are warning that the government is in danger of undermining the guidance on child protection," she said.
"After their failure to hold a single overarching inquiry into abuse allegations, ministers must get a grip and focus on this issue - these warnings must not go unheeded."
Mr Loughton had painted a critical picture of the workings of the Department for Education for the select committee, saying ministers were not allowed to wander around the department and talk to people unofficially and that all meetings had to be minuted.
The department was inefficient and bureaucratic, he said, with an "upstairs downstairs mentality".
He likened it to the management of Grace Brothers, the department store depicted in the TV sitcom Are You Being Served?, where he said once promoted, to the top, management were rarely seen on the shop floor.
"Most officials have never met the Secretary of State [Michael Gove] other than when he will troop out a few chosen people for the new year party, Mr Grace-like from Grace Brothers, and tell us we've all done terribly well and then disappear," said Mr Loughton.