New qualification to boost post-16 maths numbers urged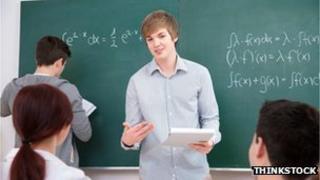 A new maths qualification is needed to encourage more students to study the subject after 16, a study suggests.
Post-16 maths would be further boosted if the new qualification was required for jobs or degree courses, argue Nuffield Foundation researchers.
The course, for students who do not take A-level maths, should focus on mathematical fluency, says the study.
Author Prof Jeremy Hodgen said universities and employers should be involved in developing it.
A previous Nuffield study found that fewer than one in five pupils in England, Wales and Northern Ireland studied maths after the age of 16; the lowest level among 24 countries surveyed.
'Attractive alternative'
In Scotland almost half (48%) of students took maths after 16 but this was still below the average. The figure for Germany and Hong Kong was over 90% while in the US, New Zealand and Singapore it was over 65%.
England's Education Secretary, Michael Gove has set a target that "within a decade the vast majority of pupils are studying mathematics right through to the age of 18".
The new study looks in detail at post-16 maths education in seven countries.
The authors say that rather than making the qualification compulsory the challenge is to provide a "clear and attractive alternative" for students who achieve good grades in GCSE maths but do not currently go on to study AS or A-level mathematics.
They also recommend that students should study a wider range of subjects, following the example of Singapore where students who study arts or humanities must also take a maths or science subject.
They also argue that the strongest incentive for students to continue with maths is that it is required for employment or higher education.
They want the new qualification to focus on statistics, mathematical modelling of real-life problems and general mathematical fluency. They say research is needed into exactly what mathematical skills employers and universities need school leavers to have.
In addition they endorse proposals to make over-16s in England study GCSE maths until they have achieved at least a C grade.
The Education Minister Elizabeth Truss said "The Nuffield Foundation is absolutely right that more young people should study maths to 18.
"We agree there is a gap in qualifications for students who do not currently study A-level maths and are working with leading professors like Tim Gowers, the Advisory Committee for Mathematics Education and Mathematics in Education and Industry to ensure there are excellent qualifications for those who have a grade C at GCSE and want to take maths further.
"Our reforms will mean that there is higher take-up. This is part of our work towards our goal of everyone studying maths until 18."
Labour said its policy was to make the subject compulsory to 18. The shadow education secretary, Stephen Twigg, said: "Only under Labour's plans would every child study English and maths from the age of five to the age of 18, giving them a firm foundation in the basics."
'Teacher shortage'
Lead author Prof Hodgen, of King's College London, said "Our study shows the importance of a consensual approach to policy development and implementation.
"Higher education and employers will need to be involved in the development of a new qualification if they are to value it and to make it an entry requirement.
"Schools and colleges may need to be incentivised to offer the new qualification to students, as well as to ensure that existing advanced qualifications maintain their levels of participation."
Prof Hodgen also warned that the "critical shortage of mathematics teachers" meant it was "important not to underestimate the timescale necessary for change".