Funding change 'risks cuts' to A-level sciences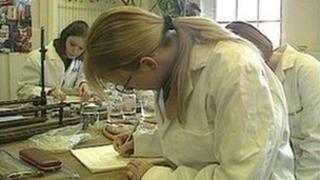 Scientists have asked the government to reconsider a plan to remove higher funding for A-level science courses.
In a letter to ministers the lobby group Science Community Representing Education (Score) said sciences cost more to run than many A-level subjects.
The loss of the 12% weighting "is likely to discourage schools and colleges from offering these more costly subjects", suggests the letter.
The government says funding for science A-levels will not be cut.
Score, which represents science teachers plus leading scientific institutions including the Royal Society and the Institute of Physics is concerned that A-level funding changes will have "detrimental effects on the offering and uptake of science A-levels".
'Negative impact'
In a letter to ministers, the chairman of Score, Prof Graham Hutchings, said that the group had "recently learnt that all academic 16-19 subjects will now be funded at base rate".
He warns of a "likely negative impact" of the changes which would be "unintended - but no less real".
The letter says that as sciences are practical subjects, needing laboratories, specialist equipment and technicians, they are more expensive to run than other subjects.
Under the current arrangements the funding paid to schools in England to deliver science A-levels is 12% higher than for other subjects. From September a new funding formula will fund all A-level subjects at the same rate.
Score says the changes could result in "severe funding cuts" and that some smaller schools might decide not to offer science A-levels while others might have to cut teaching time, reduce practical work or employ less experienced staff.
"This will impact negatively on students' experience of science education," writes Prof Hutchings.
In a reply to Score, the Skills Minister Matthew Hancock said: "Programme weightings were not removed from the funding formula as was suggested in your letter, but they were revised."
He said that the change was needed as the funding formula for A-levels had become overcomplicated.
Mr Hancock maintained that "rather than cutting funding for science A-levels, we have increased funding for the other A-levels that were funded at a lower rate previously such as mathematics".
"In particular, we have ensured that all A-level programmes will be funded at the same rate as each other from 2013-14."
Score said that it was not convinced by the minister's response and is calling for more modelling to be done to measure the impact of the planned change.
"We have received the department's response, but the situation remains very unclear. We will be corresponding further to seek clarification.
"However, we do understand that the funding for all academic subjects will be the same so that, regardless of the extra costs of practical and field work, funds for science subjects will be cut while those for other subjects will be increased," said Prof Hutchings.
Score is made up of five member organisations: the Association for Science Education which represents science teachers, plus the Royal Society, Institute of Physics, Society of Biology and Royal Society of Chemistry.