England's most read education stories of 2012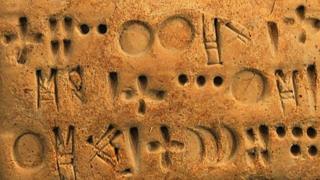 So what education stories did people really want to read this year?
There might have been generous helpings of stories about the disputed GCSE English results, university application figures and the permanent revolution in qualifications.
But the BBC's audience were much more interested in an item with an even longer back-story.
In fact, they looked 5,000 years back to a story about an Oxford University research team trying to de-code the world's oldest remaining undeciphered language.
The single most-read education story this year was an account of how researchers were using new techniques to decipher the Bronze Age proto-Elamite script, recorded on clay tablets held in the Louvre in Paris.
This tale, mixing Indiana Jones and hi-tech software, had drawn an audience of well over a million readers in the first 24-hours of its publication.
Such was the appeal of this story - a kind of archaeological 50 shades of clay - that researchers at Oxford had to build a website to accommodate the level of interest and offers of help from the public.
Among those stepping forward was the grandson of the French archaeologist who had discovered the tablets more than a century ago in what is now modern day Iran.
Global classroom
In second place in these annual rankings was a story that reflects one of the strongest trends of 2012 - the growing influence of international comparisons in education.
This story reported a new global education league table published by Pearson - which ranked the UK in sixth place, behind Finland and a group of Asian education superpowers.
As well as having been read by about a million readers on the day it was published, this has been shared 32,000 times on Twitter or Facebook.
While England's education agenda, at least in terms of Westminster and newspaper headlines, was absorbed by GCSEs versus O-levels, the readers seemed to be looking at how the UK compared with the current international competition.
None of the exam shake-up stories - such as the arrival of the English Baccalaureate and the reshaping of GCSEs and A-levels - figured in the most-read stories.
The globalisation theme is apparent elsewhere in the top 10.
The story about London Metropolitan University losing the right to recruit overseas students rippled across the world - and was one of this year's most-read.
University focus
But there was also plenty of interest in a highly-regarded Italian university - the Politecnico di Milano - planning to switch to the English language, so that it could compete on an international stage.
This was one of the stories in the Knowledge Economy series that looked at education from an international perspective - and another story in this series, about how exam pressure in Hong Kong has given tutors rock-star status, also seemed to have caught the imagination.
In 2011, education news had been dominated by university stories - in particular the increase in tuition fees.
This year, once again, university stories feature prominently among the most reads, including the UK's success in global university rankings.
Just outside the top 10, there are two stories about the rise of online universities and a report on the fall in university applications.
Repeating a pattern from last year, the most-read lists also show that overtly political stories are conspicuous by their absence. Whether it's governments announcing or opposition and unions denouncing, readers appear lukewarm, even when such stories are running high in the news agenda.
Instead their curiosity drew them to stories such as the Halloween test for psychics set by researchers at Goldsmiths, University of London and the discovery by an Oxford historian that "Tudor" would have been entirely unfamiliar term to anyone living at the time of the... er... Tudors.
In the education and family category, a story about the starting point for middle age proved a popular talking point.
Among the stories hovering outside the top 10 are other examples of what caught the readers' attention.
There was a very big audience for a story about a 'failure week' run by a private school for girls. This was intended to help girls and their families cope with the relentless pressure of exams and to understand that it is "completely normal not to succeed at times in life".
And among stories about budget cuts and economic pressures, on organisations and individuals, the most-read was a survey showing that low and middle income families were being priced out of summer day trips.
In terms of famous names and faces, Bill Gates's unexpected visit as a mystery speaker at a school in Deptford in south London was also among the year's biggest hitters.
What's going to be big for 2013? Once again, it's going to be up to the audience to decide.