Teenagers taste working outside at Minsmere nature reserve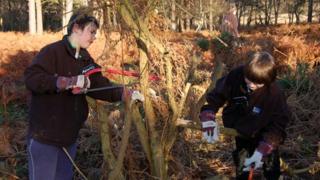 Bridging the gap between school and work can be difficult, with young people struggling to find jobs and employers complaining that school leavers lack the qualities they need. The BBC visited a project in rural Suffolk aimed at building pupils' employability.
Gary doesn't fit the usual profile of people on work parties at the Minsmere nature reserve in Suffolk.
Aged 13, he's part of a team of pupils from local secondary schools, drafted in to clear overgrown gorse bushes from heathland.
"I like destroying things that don't need to be here. I am not much of a nature boy," he says.
In times past the gorse would have been taken by locals for firewood or trampled by grazing animals. Although some of the land is still grazed, some of it has to be cleared by hand, usually by nature-loving volunteers.
Natural connection
Gary and his classmates are on a project to develop employability skills, run by four local schools and Minsmere's owners, the Royal Society for the Protection of Birds.
The RSPB wants more young people to have a connection with nature, while the schools want to make sure their pupils have the skills and attitudes needed by local employers.
In rural, coastal areas like East Suffolk, in the backyard of the Sizewell nuclear power plant, jobs can be hard to find, particularly for young people without much experience.
In November the Confederation of British Industry (CBI) said too many schools were like "exam factories" and should be doing more to instil "the skills and behaviours that businesses want".
It called for more young people with "self-discipline" able to "serve customers well".
Work ready
Meanwhile despite a dip in the numbers over a million young people are not in education, training or employment in England according to the latest figures - too high according to the government.
The four schools involved in the project want to make sure their pupils are ready for any jobs that might come up whether they be at Sizewell, at Minsmere or with local hotel chains or small engineering firms.
"We want to build skills that are not necessarily emphasised in the academic curriculum," says co-ordinator Jill Douglass from Alde Valley School at Leiston, the nearest town to Sizewell.
"These are students likely to be on the C/D borders at GCSE. They can lack confidence. We hope that by giving them this opportunity their confidence will grow.
"There is lots of team work and working in mixed groups with other schools. They hate it but it develops their communication skills."
Part of the course is learning to follow instructions and developing a sense of health and safety. The RSPB wardens have made sure the pupils are kitted out with proper boots and work gloves.
Then it's time to take a look at the tools, huge loppers and bow saws.
"We are going out on the heathlands. We are doing gorse cutting. Go carefully. If you are told not to go near the edge of the water, don't," says warden Sue Rendell-Read.
Last time three pupils failed to follow that instruction and fell into the reed beds - a habitat well suited to wading birds but less good for a teenager.
The wardens tell the pupils to look out for rare birds such as the marsh harrier and the bittern which have been spotted at Minsmere in recent weeks.
Glow worms
At the start of the course some of the pupils had never picked up these kind of tools before and were worried about handling them. Now they set to work hacking down the foliage.
Within an hour two huge gorse bushes have been replaced by stumps and piles of branches. This will allow smaller plants like heather to return as a habitat for glow worms and rare butterflies such as the silver studded blue, as well as birds like nightjars and woodlarks.
Gary has clear ideas about his future career: "I want to be a Land Rover mechanic or drive trucks or work on a farm with lots of animals and a big off-road course. It would be just so fun.
"I don't like school. Maths is OK - but not really. I am not really that good at any of my lessons."
Ollie, 14 from Bungay High School, said: "It's fun, better than being at school. I'd like to work outside but I am not bothered about birds and all that. My granddad used to be a farmer. I like to get out and do stuff, instead of sitting on the Xbox."
"I want to be a hairdresser or a vet or a zookeeper," says Heidi, attacking a branch: "It's good here because we are looking after the nature reserve. We saw a deer and a bird with a weird beak. I am proud of what we have done here - but also a bit angry because I can't cut this bit."
Afterwards the pupils were given the chance to feed back their views of the morning to organisers. Having worked hard as a team, made new friends and completed a task in the open air, despite the cold, figured high on the list of positives. The only complaint was a splinter from a gorse spine inside someone's glove.
All in all by the end of the year the children will have spent nine days working at Minsmere, experiencing different aspects of the reserve from the reed beds and heathlands to the cafe and the shop. So far it has been a positive taste of work and of the natural world.