Union's concerns over education advisers' 'potential conflicts of interests'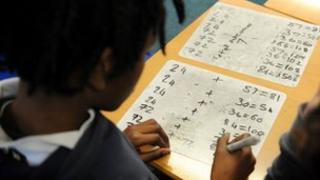 Concerns of potential conflicts of interests have been raised about individuals contracted to work as advisers in the government's academies and free schools programme in England.
Analysis by the National Union of Teachers (NUT) reveals that at least four academy chain employees - two of them chief executives - work or have worked as government education advisers on projects boosting the number of such schools.
And at least four advisers contracted to work in the sponsored academies programme are also working as Ofsted inspectors, some in apparently overlapping areas.
The Department for Education (DfE) says it has processes to avoid such conflicts, including a register of contractors' interests, but added it would sack any adviser found to be in breach of contract.
Advisers work in a range of different roles including identifying and developing new academy sponsors, ensuring academies and free schools open successfully and tackling underperformance.
Some individuals are contracted to fulfil more than one role, but they all focus on taking forward the government's wish to develop more academies and free schools.
Sir Paul Edwards, chief executive of academy chain Schools Partnership Trust (SPT), is one of the 38 advisers contracted by the government to work on its academies and free school programme. He earns between £120,000 and £140,000 for his role overseeing the not-for-profit company which has 31 open academies and five in the pipeline.
He has an education adviser contract covering Yorkshire and Humberside, the East Midlands and the north-east of England. The trust has academies in some of these areas, offices in Doncaster and Leeds and is looking to run more schools.
'No conflict'
Sir Paul told the BBC he had earned £10,000 from the DfE for work involving a school in the North East, where his chain does not currently operate, and for desktop assessments and attending meetings.
He insists he does not participate in any activity where SPT will "derive any advantage or has any interest whatsoever", and says his advisory role is withdrawn in any area where his trust now sponsors academies, and where he has worked as a head teacher. But questions remain about where the academy chain might develop in the future.
Dr Caroline Whalley is chief executive of accredited academy sponsor, the Elliot Foundation, which she founded in November 2011 - two months after she was contracted to work as an adviser in the academies programme.
The not-for-profit company specialises in primary academies and says it is "building a thriving community of schools including converter and sponsored primary academies". She told the BBC she no longer worked for the DfE, but would not comment on any potential for a conflict of interest between the two roles.
Inspection
Another individual, Wiola Hola of Epro Limited works as an Ofsted inspector for Serco, a separate company with a contract to inspect schools in several regions of England.
She is also contracted to work as an academy adviser for the DfE in several regions of England including the South West, where she inspected a school - Kingshill C of E Primary in Nailsea, Somerset, in April 2012.
She gave the school notice to improve, saying it was performing "significantly less well" than it could "reasonably be expected to perform".
The school is now in the process of becoming an academy. Ms Hola has declined to comment on the work she carried out for the DfE, or the concerns about potential conflicts of interests.
David Bray is on two company's lists of Ofsted inspectors - Serco and Tribal - and carried out an inspection of Haydon Abbey School in Aylesbury in November 2012 having been contracted to work in a number of areas as an academy adviser in the run-up to the inspection including London and the South East. The inspection said the school required improvement. He told the BBC there was no conflict of interest between the roles.
At least two other education advisers are also listed as working as Ofsted inspectors through external firms like Serco and Tribal.
Ofsted said: "Ofsted has a robust policy in place that insists all inspectors disclose if there are any conflicts of interest with a school. This ensures that an inspector who has provided advice to a school would not be involved in any inspection activity with that same school."
But it is now looking into the issue of potential conflicts of interests among its additional inspectors, and is working with Tribal and Serco to try to ascertain whether any inspectors provided consultation services to schools which they also inspected.
But the NUT is concerned that those working as advisers on daily pay rates of up to £840 in schools which are underachieving could have their impartiality compromised by a potential pecuniary interest when inspecting a school.
This is because sponsored academies replace underperforming schools that have generally been failed by Ofsted.
'Strict processes'
The issue came to light after NUT researchers analysed the contracts of 38 education advisers published on a government website. The BBC then conducted its own investigation into their work.
NUT general secretary Christine Blower said the dual role of some of these contractors gave rise to "serious concerns about their impartiality and objectivity".
"Contracts such as these represent a deterioration of the public service ethos in the administration of government policy.
"Instead of professional civil servants, government departments and the Department for Education in particular are increasingly relying on hired hands to deliver their policies.
"These contractors lack the accountability set down in civil service codes and make their money from accumulating contracts for a variety of paid services, be it school inspection, academy sponsorship or consultancy work. There is a lack of oversight and insufficient regard given to where these functions may conflict."
Declarations of interests
The contracts state advisers will "work closely with the department's representatives in the development of successful academies and free schools", and that they will support schools, along with sponsor organisations, project management companies and the Department for Education in the process of creating sponsored academies.
A DfE spokesman said there was always a "test of reasonableness" in assessing potential conflicts of interests, but would not comment on the individual cases.
"We have strict processes in place to ensure there is no potential for conflicts of interest among our contractors.
"Education experts such as Ofsted inspectors provide us with invaluable advice to ensure new schools are capable of providing a high standard of education.
"We ensure all potential conflicts are avoided so, for instance, an Ofsted inspector would obviously not be asked to provide broker services to a school they had recently inspected.
"Any contractor found to be in breach of contract for non-disclosure of interests will have their contract terminated immediately."
He said that there needed to be a common sense approach to employing experts to ensure that schools get the right expertise.
Mark Serwotka of the Public and Commercial Services union called on the DfE to move swiftly to allay fears of conflicts of interest in the contracts.
"We share the NUT's serious concerns about a steady deterioration of the public service ethos in the senior ranks of this department and a politicisation of important work that affects the education of all our children.
"Education secretary Michael Gove appears to have been given free rein to use his department to undermine and bypass the impartiality of civil servants to enact a dangerous political project."