Exams watchdog Ofqual rejects claims GCSE English grades were 'unfair'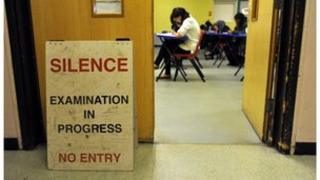 England's exams watchdog, Ofqual, has rejected claims that GCSE English grades awarded this summer were "unfair".
It is fighting a legal challenge at the High Court from an alliance of pupils, schools and councils.
The group says students were treated unfairly when exam boards raised the mark needed for a grade C between exams taken in January and June.
Ofqual says it acted fairly to maintain exam standards.
The legal challenge is against the actions of both Ofqual and two exam boards - Edexcel and AQA.
The group is calling on judges to order the regrading of summer exams to bring them into line with units taken in January.
It says more than 10,000 pupils missed out on a C grade in GCSE English because of what they have called a "statistical fix".
On Wednesday, lawyers for the exam boards told the court they had raised the mark needed for a GCSE English C grade based on their judgement of the quality of the work.
Now lawyers for Ofqual have told the court it had acted lawfully; that it had a duty to maintain standards over time and between different exam boards by ensuring there was no "grade inflation".
Helen Mountfield QC, for Ofqual, told the court: "Our case is that what we did was clear, principled and transparent. We had a duty to maintain standards over time and between organisations".
Ofqual said grade boundaries did vary between units taken at different times.
It had challenged the boards over the grades they had initially suggested, it said, but ultimately, it was the boards that had then moved the boundaries.
And there was no evidence June's grade boundaries had been set "unduly harshly", its lawyers said.
A legal ruling was expected next week but is now expected after Christmas.