English is second language at 'best' primary
By Katherine Sellgren
BBC News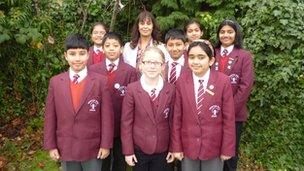 Most of the pupils at the school that tops the latest primary school league tables do not speak English at home, and 80% are from Asian backgrounds.
Nearly half (48%) of the pupils at Newton Farm Nursery, Infant and Junior School in Harrow are Tamil and 32% are of Indian descent.
Head teacher Rekha Bhakoo says the results are down to high expectations.
Mrs Bhakoo says two-thirds of her pupils go on to independent and grammar schools for their secondary education.
Newton Farm School is a one-form entry school, so has just 30 pupils in each year group.
This year, an average points score of 34.1 puts it into the top spot of a league table compiled from the national curriculum test results - known as Sats - of more than 14,000 primaries in England.
The head, who has been in post for 21 years and received a CBE for services to education in 2006, says typically four pupils in the school's reception class would really struggle to speak English while 12 would have difficulty expressing themselves.
Mrs Bhakoo says the children receive "a huge amount of support", but have high expectations put on them.
"The aspiration comes from the school because we say to them that their background shouldn't be a barrier to their success.
"I have very high expectations - I feel everyone can achieve and there shouldn't be a limit on what people can achieve. Once you convince them that can happen, pupils take on that aspiration for themselves.
"The sky's the limit - if you don't have a limit, you can do whatever you want in life."
The school identified that some bright pupils were "coasting" - or not achieving their full potential - and put measures in place to fully stimulate them.
Lessons in philosophy have also been introduced from the nursery school through to primary, with pupils answering questions such as "what is success?"
"Engaging them in Socratic dialogue has been a real lift. You have got to have memorable experiences in the curriculum, because that's how children learn," Mrs Bhakoo says.
"It's about making sure everything you do makes an impact on the children. At the end of the day, each child only has one chance and that child could be yours or mine."
Mrs Bhakoo says while she is delighted the school has come out so well, she doesn't find the league tables a motivator for her personally as a head teacher.
"Obviously I'm absolutely delighted, really delighted for my staff, the children and the community.
"But it doesn't bother me because even if we didn't have the school league tables, I would still have those expectations. It makes no odds to me."
Related Internet Links
The BBC is not responsible for the content of external sites.