Deduct pay from teachers who work to rule, urges Gove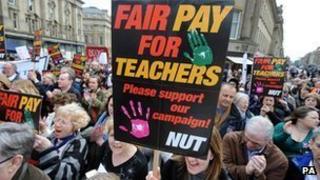 The Education Secretary Michael Gove has advised schools that teachers who work to rule may be in breach of contract and could have pay deducted.
Members of some teaching unions have been taking action short of a strike over pay and pensions since October.
In a letter to heads Mr Gove described the action as "highly irresponsible".
Russell Hobby, of National Association of Head Teachers, said it was the job of school leaders to sensitively manage the impact of industrial action.
He said: "We understand the position of our colleagues in the teaching unions, but our duty to pupils overrides all political or industrial considerations.
'Sensitivity' needed
"School leaders are not happy with the industrial action, but it is part of our job to sensitively manage its impact and we will make our own judgements about the best course of action to meet the needs of our schools."
The industrial action taken by members of the National Union of Teachers and NASUWT has included not attending school meetings and some extra-curricular activities, not filling in forms or covering for absent staff, and refusing to invigilate some public exams.
In the letter which has been sent to the heads of all schools and academies, Mr Gove says that industrial action could cause "major problems for their school and damage head teachers' efforts to raise standards".
"The NUT and NASUWT have issued a series of 25 instructions setting out activities which their members should refuse to undertake.
"The vast majority of schools are currently unaffected. A small number, however, are starting to see a severe impact and where this is the case, I believe a robust response is needed.
"I would be very grateful if you could support your school(s) in taking a robust response, including through pay deductions where appropriate," writes Mr Gove.
Mr Gove previously criticised the teaching unions for taking industrial action, at the Conservative party conference in October. He accused them of "holding back" pupils.
'Distract attention'
The unions have said the idea of of taking action in this way was to avoid disruption to pupils and have called on the education secretary to resolve the ongoing dispute.
The NUT's Christine Blower said: "This is a continuation of Michael Gove's war on teachers. One might well ask why Michael Gove is releasing this advice now, three months into our action.
"We believe it is to distract attention from the GCSE regrading court case, the isolation that Michael Gove finds himself in over [the proposed English Baccalaureate Certificates to replace GCSEs] and his forced academies policy."
Chris Keates, of the NASUWT said: "The secretary of state is recklessly encouraging schools to take punitive action against teachers on the basis of advice which is littered with caveats and ambiguities and which demonstrates quite clearly that the secretary of state is unable to state categorically that any action being taken by NASUWT and NUT members is in breach of contract.
"In the light of this, any school which acts on his advice leaves itself vulnerable to extensive and expensive litigation and escalation of industrial action."
She also said that "not one single day of children's education has been disrupted" during the work to rule.
A spokeswoman for the Department for Education rejected Ms Keates's comments and promised to support schools that took sanctions against the industrial action.
'Playing politics'
In a separate letter, Mr Gove called on Labour to join him in condemning the action "and calling on the NUT and the NASUWT to call it off. A Labour Party that believes in raising standards I'm sure will want to show its support for head teachers who are trying to do exactly that."
In response, the shadow education secretary, Stephen Twigg, said: "We made clear months ago that we oppose this industrial action being taken by the NUT and NASUWT. It is not right that schools and pupils should be affected in this way.
"But Michael Gove is playing politics. Reports at the weekend seemed to suggest he is relishing putting his department on a war footing with teachers. This is not the way to attract new recruits to the profession.
"At the same time, he is threatening the quality of pupils' education - with the biggest cuts to education funding since the 1950s, 10,000 teachers having left the profession, cuts to reading and maths tuition and a narrow and out of date curriculum."