League tables: Fewer primary schools fail to meet target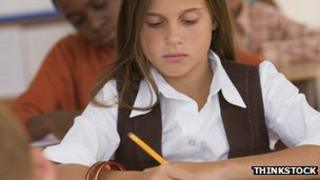 The number of primary schools in England below the government's target for academic performance has fallen dramatically, data shows.
This year 521 schools are below the expectation for maths and English, compared with 1,310 in 2011.
Department for Education data published on Thursday shows how more than 14,000 primaries fared in national curriculum tests, known as Sats.
The government said schools had risen to the challenge of raising standards.
The Department for Education (DfE) now says schools are underperforming unless one of the following criteria is met in maths and English:
at least 60% of pupils achieve the expected level (Level 4) or higher
overall, the pupils make the expected degree of progress between the end of infants (Key Stage 1) and the end of juniors (Key Stage 2)
In total, 789 fewer schools failed to reach this target based on last summer's results than in 2011.
Of the 521 schools deemed to be underperforming, 47 had now closed, with 37 becoming academies, the government said.
A DfE spokesman said the higher primary school targets it had introduced had led to the improvement.
"Today's figures demonstrate that schools have responded to the challenge. The floor standards we introduced were tougher and have improved performance.
"Heads, teachers and pupils deserve credit for meeting the challenge head on.
"Schools with a long history of underperformance, and who are not stepping up to the mark, face being taken over by an academy sponsor."
National picture
The results are based on the national tests children in all state schools take in their final year of primary school.
Across England schools have done better than last year with 79% of pupils reaching Level 4 in English and maths compared with 74% in 2011. In 2010 it was 73.5% .
However, the DfE figures are not directly comparable because there was no writing test in the 2012 English curriculum tests.
Writing has been the focus of much effort in schools in recent years, with boys particularly struggling in this area.
Overall, some 27% of pupils were high achievers - reaching the level expected of a 14-year-old, Level 5, in maths and English.
Pupils with low prior-attainment at the end of infant school have done noticeably better this year.
Last year, only a quarter of those with low attainment at the age of seven reached the expected standard in English and maths at the age of 11. This year a third (34%) did so.
High achievers also did better. Last year, 61% of those who were doing particularly well when they were seven reached Level 5 at age 11 and this year 72% did so.
The tables show the best performing local authority is Richmond upon Thames in south London, where 90% of pupils reached the government's benchmark of Level 4 in maths and English. It is followed by Kensington and Chelsea where 86% achieved this.
The worst performing local authority this year is Medway in Kent, where 72% of 11-year-olds made this benchmark.
Newton Farm Nursery, Infant and Junior School in Harrow tops the BBC list of best performing schools, with 100% of pupils achieving Level 4 in maths and English and obtaining a full average point score (the average number of points per pupil in the tests).
The school with the lowest percentage of pupils reaching the expected level in maths and English was Crays Hill Primary School in Billericay, Essex, where 8% reached the target.
The school serves a large traveller community. The community was evicted last year from the Dale Farm site.
'Excellent news'
Labour's shadow schools minister said Kevin Brennan hard working primary school pupils and teachers should be congratulated but said "not enough schools are making the grade in the 3Rs.
"Michael Gove and David Cameron are threatening standards by cutting back English and Maths tuition programmes for primary school children and with an old fashioned curriculum."
Russell Hobby, general secretary of the National Association of Head Teachers, said the results were "excellent news".
"It shows the hard work that's going on in the system and has been going on for some years."
He said the majority of primaries would not become academies and that showed schools could improve "no matter what their status".
One of the education secretary's flagship new free schools, the Mahirishi Free School, in Lancashire failed to administer the Sats tests this year.
It seems that they did not realise their pupils had to sit the test, as they used to be an independent school before attaining the state funding associated with free school status. Independent schools do not have to sit national curriculum tests.
The DfE has written to the school reminding its leadership of its obligations.
This map shows how primary school attainment varies between England's mainstream local authorities. Follow this link for a full table of local authorities.