Self-harm calls to ChildLine show biggest increase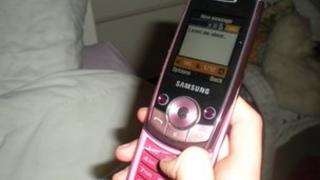 Self-harming has become the fastest rising cause of calls for help to the ChildLine advice line, according to the charity's annual report.
There has been a 68% annual increase in contacts to ChildLine over self-harm, mostly from girls.
It is also affecting younger children, appearing for the first time as a leading concern among 14-year-olds.
Sue Minto, head of ChildLine, said it reflected how teenagers felt unable to escape the pressures in their lives.
Ms Minto said the relentless and pervasive nature of modern technology - with texting, social networking and websites - meant children found it hard to escape pressures such as bullying.
"It's very unforgiving for young people," she said.
Family break-ups
In the course of the year, ChildLine provided more than 16,000 counselling sessions about self-harm.
The callers to the advice line - and youngsters who contacted the website - included those who had self-harmed or were on the verge of doing so and even some who were self-harming as they got in touch with ChildLine.
Contrary to the impression that this might be a way of gaining attention, Ms Minto said a large majority of self-harmers did so secretly, without their family or friends being aware of their behaviour.
This had become a form of "coping mechanism", she said.
The examples of the type of calls about self-harming given by the charity show children facing a toxic mix of troubled family relationships, violence, alcohol, bullying and secrecy.
There was also a substantial increase in children contacting ChildLine about potential suicides - up by 39% on last year.
"Contacts about self-harm and suicide are growing areas of concern for us. It seems the pressures facing children and young people - particularly girls - are increasing at such a rate that some of them see these drastic measures as the only answer to their problems," said Ms Minto.
Although ChildLine is associated with helping children raise concerns about abuse, the biggest single reason for children getting in touch is because of "family relationships".
The report shows that increasing numbers of children are contacting ChildLine for advice and someone to talk to during family break-ups and arguments between parents, children and their brothers and sisters.
Bullying
The next biggest reason for contacting ChildLine is bullying - and there were substantial increases in calls about depression and mental health and problems with friends.
Depression is one of the top five causes of concern among callers aged 16 and 17.
Physical and sexual abuse are the only areas where there were fewer counselling sessions than last year.
However the report says that sexual abuse remains a significant concern among the older group.
There were 1.2 million calls to ChildLine in total - and 1.85 million visits to the website - with 50% of contacts coming from those in the 12 to 15 age group, 30% from 16- to 18-year-olds and 20% aged 11 and under.
"There have been notable changes in the problems children contact us about since ChildLine launched in 1986. Originally, sexual abuse was the major issue but now the pendulum is swinging towards family problems, self-harm, and suicide," said ChildLine's director, Peter Liver.