Rise in complaints to schools watchdog over school places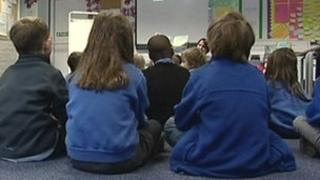 Too few schools in England are fully adhering to the admissions code governing how pupil places are allocated, their watchdog has said.
Complaints to the schools adjudicator about admissions arrangements rose to 156 in the 12 months to September, from 127 the previous year.
The total number of complaints, 265, has also risen, its annual report adds.
Some schools fail to give parents information they need in time for them to make choices about schools, it says.
Many of the complaints about admissions related to school catchment areas and priority, or lack of priority, being given to brothers and sisters, the report says.
The watchdog adds there are "serious shortcomings" in the arrangements for entry to some sixth forms, which are "often difficult or even impossible to find on schools' websites", incomplete or ask for information not allowed under the admissions code.
The admissions code is a legal guide schools and local authorities have to abide by when they set out their rules for admitting pupils. It covers such things as which groups a school will prioritise if it is over-subscribed.
Code breaches
The chief schools adjudicator, Elizabeth Passmore, said she was calling for all admissions authorities - usually schools or councils - in England "to comply fully with the admissions code on consulting, determining and publishing their arrangements to ensure fair access for all children".
The body's annual report says: "We remain concerned that year after year we see some of the same breaches of the code."
The watchdog complained some schools or councils were not giving parents clear information about their admissions arrangements as they should.
It said a spot check on 50 schools or other admissions authorities (usually councils) in May showed only 14 had published their arrangements for pupils applying this autumn for places for 2013.
In September, that had risen to 37, but "still not the full 50 as should have been the case".
Such details are meant to be published in April.
Another area of concern, the watchdog said, was that several local councils had mentioned a "small minority" of schools that they felt had "unreasonably" refused to admit a child.
It is a council's responsibility to make sure children in its area are receiving an education.
The watchdog said in one local authority area the 13 secondaries which are responsible for their own admissions have refused since November last year to co-operate with attempts to find individual children places.
"Fortunately these examples of uncooperative, obstructive behaviour are in a tiny minority, but for the children concerned they represent a very serious situation," the report says.
Of the 203 complaints investigated in the year to September, about half were upheld or partially upheld. A quarter were not upheld, while the remaining number are either awaiting a decision or were ruled to be outside the watchdog's jurisdiction.
School place shortage
The chief adjudicator also highlighted concern among some councils about a shortage of primary places and a possible future shortage at secondary level.
In some cases, "relatively few" extra places were needed, but in others it was "a great many", the report said, adding that the shortages were not just in London.
"Some refer to providing extra classes in previous years, and again this year providing five or nine extra classes or even up to 20 classes giving 600 extra places," the report said.
Government estimates published in January suggest that the number of children at primary schools in England is expected to rise by a fifth in the next decade.
By 2020, it is thought there will be 4.8 million state primary pupils - 20% higher than in 2011.
The government has pledged £2.7bn for areas in need of extra primary places.
A spokesman for the Department for Education said: "We know there is a demand for good school places and we are creating thousands more to deal with the impact of rising birth rates on schools.
"We are opening free schools and letting the most popular schools expand to meet demand. We are also intervening to drive up standards in weak primaries, which have empty places simply because parents do not want to send their children there."