Poorest pupils 'weaker at maths'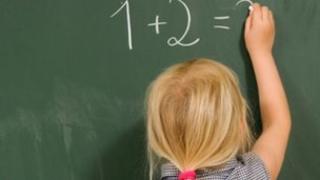 The poorest children are twice as likely to struggle at maths early on at primary school, research suggests.
But a study found a short but intense tutoring scheme enables struggling children to make strong gains.
The report on 47,237 children with weak numeracy levels in England's Every Child Counts scheme found 73% went on to meet average levels. The analysis was for the scheme's annual report
The tutoring involved half an hour of daily tuition over three months.
The scheme was originally managed and funded, directly, by the Department for Education.
It is now run by Edge Hill University and has developed into two schemes, Numbers Count and 1stClass@Number.
Instead of being automatically offered to schools, head teachers now decide whether they want to buy it in as a means of helping their pupils.
'Sustained progress'
The analysis of how they have progressed in 1,861 schools in England gave an insight into the type of pupils who were more likely to find maths very difficult.
They were twice as likely to be poor pupils on free schools meals and two and half times more likely to have special educational needs.
And the children were 50% more likely to speak English as an additional language and 35% more likely to have be summer born.
Researchers found pupils aged six to seven began the tuition scheme with numeracy skills an average of 13 months behind the average for their age.
And, after just 3.7 months of support, they made average gains of 15.7 months.
Children who were tutored in pairs and groups of three appeared to make just as much progress as those taught on a one-to-one basis.
Not only did three-quarters of pupils involved achieve national expectations, but by they time they reached the end of Year 2 they sustained that progress in follow-up tests six months later.
Crucially, none of these children had been predicted to meet the national expectation of reaching Level 2 at the end of Year 2.
And nine out of 10 were more positive about learning maths after Numbers Count than when they started.
Christine Blower, general secretary of the National Union of Teachers, said as Every Child Counts had a proven track record of success and it was disappointing that its ring fenced funding has been removed.
"At times of huge budget cuts unless funding is specifically allocated to certain initiatives, and qualified teachers employed to teach it many children will miss out on the opportunity to access additional one to one and small group support in enhancing their numeracy skills."
Currently, 18,000 children are taking part in the programmes.
Edge Hill says that most of the schools which were directly funded by the government have opted to continue in the scheme and more have joined.