Victim's story: Abused after being lured with drink and drugs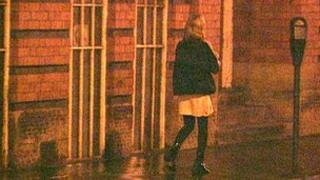 A report from the Children's Commissioner for England has suggested that thousands of children are sexually abused by gangs and groups each year. This is one child's story.
Things were going well for Emma until, at the age of 12, she was raped by an older male friend.
And then, on her 13th birthday, she was lured into a dangerous world of drink and drugs by some older boys.
"They took us out in their cars and gave us whizz [amphetamines], weed and drink. Then they started texting us and wanting us to come out all the time.
"I would stay out all night and come home at 5am. I don't know why I did it, I guess it was exciting. It was tearing my family apart, I know that now."
Some time later Emma was at the house of a friend when some boys and men turned up with drink and drugs.
"I don't know how it happened, but I ended up in a room on my own with one of them. He raped me and then other men came in. They took turns. I just laid there.
"Inside I was in bits, I just felt so empty. I saw some money on the side and managed to drag myself up and snatch it.
"I ran out of the house and got a taxi home. I told my mum when I got in - it was awful. I felt so dirty, I couldn't shower, I had to wait for the police and have all these tests. I had bruises all over."
Emma was then referred to a Barnardo's project specialising in helping victims of child sexual exploitation.
It hasn't been an easy road for Emma since that time but with the charity's help she has returned to school and the future looks brighter.
Not only is she now keen to pass her exams and go to college, she has regained her self-esteem.
But she has a warning for other young girls not to be drawn into the kind of dangerous life that left her feeling so hurt and hollow.
She says: "You might think these boys like you and they're being nice giving you all these things for free - but you don't get anything for free."