Jobs 'eBay for engineering students'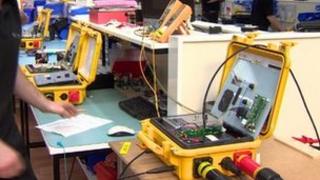 A scheme to get would-be engineers into the UK's top industrial firms is being opened to students and undergraduates.
Dubbed an eBay for talent, the Talent Retention Solution will allow students to match their skills to job vacancies in manufacturing and engineering.
It comes after the Royal Academy of Engineering warned UK firms were already recruiting experts from abroad.
It estimates the economy needs an extra 100,000 science, technology, engineering and maths graduates a year.
Speaking at the annual conference of the Confederation of British Industry, Business Secretary Vince Cable said there was a "clear and growing demand in British companies for specialist technical skills".
Engineering giants
He added: "Time and again, large manufacturing companies come to my department and tell me they are worried about looming shortages of skilled engineers. It is one of my major priorities as business secretary to address this problem.
"The Royal Academy of Engineering has published estimates of long-term demands for engineers, and there is no doubt that these are very challenging.
"My department's chief scientific adviser, Prof John Perkins - himself an eminent engineer - is working closely with the academy and others to see what more might be done, including areas such as diversity and redressing the pronounced gender bias, and helping people return to the profession."
Mr Cable said the Talent Retention Solution (TRS) scheme, an industry-led programme that matches trained engineers with 500 employers, including engineering giants such as Siemens, Airbus, Nissan as well as smaller firms, would be extended to undergraduates.
He added: "I'm very pleased to announce that the TRS, which is now funded and managed entirely by business, is being extended now and is working with universities so that students can put up their profiles and search for jobs - effectively an eBay for talent."
"The industry group see this as an important move towards supporting young people into engineering and manufacturing jobs and will be progressively using TRS to source new and experienced talent in the years to come."