Arts must be secure in curriculum, argues leading head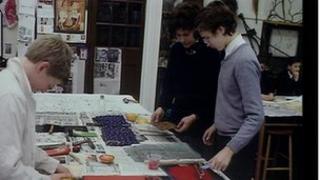 Cultural education should have a secure and significant place in the curriculum in England, a leading head teacher will argue on Saturday.
Bernice McCabe, of North London Collegiate School, will say the arts are crucial to a rounded education,
Ms McCabe's comments follow plans to leave arts subjects out of the English baccalaureate for 16-year-olds.
"The future status of your subjects is uncertain," she will tell an audience of arts and music teachers.
"I am convinced that education in art and music is a crucial element in the curricular entitlement of every child," Ms McCabe will say in a speech to the Prince's Teaching Institute (PTI).
She will encourage a weekend seminar on arts education to consider: "Why should we teach creative arts, what should we teach and how should we teach it?"
'Speak now'
"We are in the middle of a lively and important curricular debate... if you speak now your voice will be heard and it may be influential."
Concerns have been raised about the future of cultural education in schools after the government announced plans for the English baccalaureate which will be taught in schools from 2015.
The new qualification will initially be in three core subject areas - English, maths and sciences - but will later be widened to include a language and either history or geography, but no arts subjects.
Eminent figures in the arts world have voiced fears that Britain's creative economy could be destroyed within a generation if arts subjects are left out of the new qualification as schools might no longer want to put resources into teaching them.
Supporters of the change say students will be able to elect to study the arts as "option subjects".
Ms McCabe, course director of the PTI, will say that all that is guaranteed for arts subjects at the moment is that they will continue to be compulsory up to the end of primary school.
"I know that vibrant art and music teaching and extra-curricular enrichment are essential for the rounded education I want every child to experience. As a professional, I do not need any government to tell me that," Ms McCabe will say.
She will point out that industries related to the creative arts currently employ over two million people in the UK and that the arts are an expanding sector in the global market.
"China for instance is investing huge amounts in new art and design colleges and technologically advanced countries like Japan and Sweden retain art in the core curriculum throughout the years of compulsory schooling."
She will argue that "all children should have a profound experience of the arts in terms of cultural history and their own practical experience" and that teachers "should ensure there is as much... rigour in these subjects as, say, the sciences".
"We teachers have a prime role as champions of this country's cultural heritage and I see it as our moral duty to pass this on to younger generations."
A Department for Education spokeswoman said: "The English Baccalaureate does not prevent any school from offering GCSEs in art and design, music, dance and drama. We have been clear that pupils should take the GCSEs that are right for them.
"We are spending £15m over the next three years to ensure that every child has access to the arts."