Pupils hiding talents from bullies, survey suggests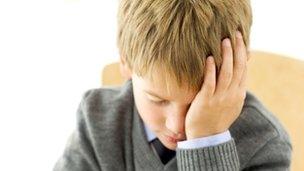 Some children are hiding their talents and skills in school for fear of being bullied, research has suggested.
Nearly half of UK children have played down a talent because of bullying fears, a survey of 1,042 children aged 11 to 16 suggests.
And more than a quarter of those polled for England's anti-bullying week said they had quit an activity they enjoy for the same reasons.
One in 10 said they had played down their ability in science.
And nearly one in five girls said they deliberately underachieved in maths skills to avoid being bullied.
Fewer boys, one in 10, reported playing down their maths ability for the same reason.
The poll also suggested many children (11%) having stopped singing because of the fears, some 8% said they had stopped doing drama and 9% dancing. Some 8% have quit a sport because of bullying fears.
A survey last year suggested two-thirds of parents had witnessed bullying and intimidation on the sports field.
Ross Hendry, chair of the Anti-Bullying Alliance - a coalition of organisations tackling bullying, said it could lead to children missing school, failing exams, dropping out of sport, avoiding extra-curricular activities and limiting their life choices.
"It's unacceptable that rather than celebrate their talent, they feel that they have to hide their gifts, purposely underachieve in crucial subjects and miss out on things they enjoy because of bullying."
The poll was carried out with a panel of 1,042 children online between August and October this year.
Anti-bullying week, starting on Monday, November 19, aims to highlight the issue and offer advice on dealing with bullying.
Related Internet Links
The BBC is not responsible for the content of external sites.