CBI complains of 'exam factory' schools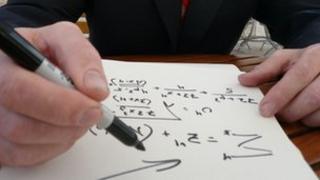 Business leaders say some UK schools have become "exam factories" and are calling for children to be given a broader education.
The CBI is calling for radical changes to schools.
It says there is too much focus on exams at 16 and that should be switched to 18, with more emphasis on skills people need for life and work.
It calls for schools inspectors and league tables to look beyond exam results.
But it says improved attainment would boost the UK's economic growth.
The Confederation of British Industry, the employers' organisation, made the recommendations in a report released at the start of its annual conference.
Its director general John Cridland said: "In some cases secondary schools have become an exam factory.
"Qualifications are important, but we also need people who have self-discipline and serve customers well. As well as academic rigour, we need schools to produce rounded and grounded young people who have the skills and behaviours that businesses want."
The business leaders say their report is for the UK as a whole, but power over education is devolved from Westminster and policies and exams taken differ.
Some of their recommendations relate most closely to schools in England, where Education Secretary Michael Gove is overhauling the school system, including exams.
On GCSEs, he has mainly focussed on toughening the exams, encouraging pupils to study more academic subjects, and calling for a higher percentage of pupils to score the benchmark five good GCSEs, rather than downplaying their importance.
This, however, is something the Labour education team is considering as part of a wider package of reforms.
'Cult of the average'
Mr Cridland told journalists the CBI was not criticising government policies - or teachers.
"Government reforms are heading in the right direction, but are not sufficient on their own and must go further and faster," he said.
The report backs England's academy programme - where schools are encouraged to take on more independence - but is also critical.
It attacks what it calls the "cult of the average", saying 40% of young people are underachieving while the top 10% are not being stretched enough.
The report says UK schools have had 35 years of "piecemeal reforms" and the result has been a "gentle upswing in performance", judged by international benchmarks, but also a "long tail of low achievement".
In England, from 2015, young people will be expected to stay in education or training until they are 18 and the CBI says the focus should be switching more towards exams at 18, with improved vocational A-levels. All children should study English and maths until that age, it recommends, which is in line with Labour proposals.
A spokesman for the Department for Education said: "The CBI rightly recognises the importance of English and maths, calls for greater rigour in the curriculum and in exams, welcomes the academy programme, wants a new accountability system and backs greater freedom for teachers.
"These are all part of the government's radical package of reforms that will give England's education system the thorough overhaul it needs."
Shadow education secretary Stephen Twigg said: "When business leaders say his approach to education is wrong, Michael Gove looks seriously out of touch.
"There are a number of recommendations which support Labour's policies. It confirms that Michael Gove has focussed on the wrong thing by spending two years tinkering with exams at 16, rather than offering all young people the skills and knowledge they need when they leave education at 18."
Association of School and College Leaders general secretary Brian Lightman said the report highlighted the pressing need for a long term strategy for our education system, which will provide the stability school and college leaders require in order to embed sustainable improvements.
However the CBI's claim that the UK has slipped down international league tables is misleading and statistically inaccurate as made clear by the Chair of the UK Statistics Authority and other reports."