Teachers: Nearly one in three trainees does not stay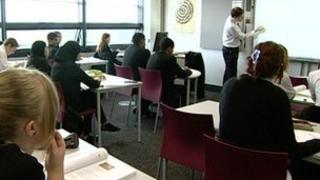 Nearly one in three people who trains to be a teacher in England does not go on to work in the profession, a report suggests.
A study by Buckingham University says out of 38,000 teachers who trained in 2010-11, 70% were in teaching posts the following January.
Researchers also found rising numbers of trainees had degrees of at least a 2:1.
Arts graduates were more likely to have good degrees than scientists.
Researchers say of those who did enter the profession, nearly 61% went to work in state schools, 5% went to private schools, while 5% were in teaching although it is not known in which sector.
Report author Prof Alan Smithers said: "Some people start with teacher training and it becomes clear to them that they are not going to make good teachers, and others successfully complete and they're not necessarily able to find a job."
The report looked at the various routes in to teaching and found nearly 80% of trainees were on university-led courses, while about 5% were on what are known as school-centred courses.
Both routes involve training towards a PGCE (post-graduate certificate in secondary education) and tuition fees are payable.
Another route is known as employment-led training, where trainees are school-based, paid a salary and do not pay tuition fees.
The researchers said no one training route emerged "as superior overall".
"University courses, on average, receive the highest grades from Ofsted and recruit the best graduates," but it was those on the employment-based training who were the most likely to remain in teaching, they said.
Shortage
The government is shifting more teacher training towards schools and recently announced details of tougher entry tests for trainees in English and maths.
The research suggests teacher trainees in arts subjects such as history and English were more likely to have good degrees than those training to teach maths or science.
About 83% of history trainees and 77% of those planning to teach English had a first class degree or a 2:1, compared with 52% of those wanting to teach maths and 54% of science trainees.
The report said: "It means that children are more likely to find themselves with knowledgeable teachers in subjects like history and English than in maths, the physical sciences and ICT."
People training to be science, maths or ICT teachers were more likely to drop out too, the researchers said.
The government is trying to attract more well-qualified graduates to teach subjects such as science and modern foreign languages, where there is a shortage, and is offering them bursaries of up to £20,000.
Overall, more people taking up teaching today have "good" degrees (a 2:1 or first), the report said.
In 1998, 46% of those beginning teacher training for secondary schools had this level of degree, while in 2012, this had risen to 59%, the researchers said, although they added that this was in line with the rising proportion of good degrees being awarded.