Poorer pupils 'lack confidence' for top universities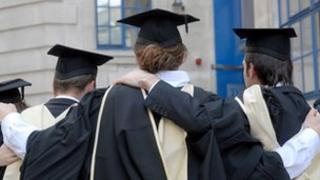 Thousands of poorer bright pupils lack the confidence to apply to top universities, suggests research.
Private school pupils are still almost twice as likely as state school pupils to apply to them, according to a survey of high-achieving students.
Researchers for Sutton Trust and the government asked more than 13,000 sixth formers how they chose where to apply.
However, Pam Tatlow of the Million+ group called the focus on selective universities "misplaced".
"All universities have selective courses. The key issue is whether students choose a course and a university which is right for them and where they are likely to succeed," said Ms Tatlow.
The survey focused on sixth formers predicted to get at least three B grades at A level. It found that 42% of able students from state schools submitted two or more applications to selective universities, compared with 73% from private schools and 53% from grammars.
Social divide
The results also suggested that almost half (46%) of bright students who chose not to apply to selective universities were influenced by distance from home and more than a third (39%) were put off by the cost of living.
Almost three-quarters (74%) of the students who chose less selective universities said that their job prospects on graduation were very important, compared with 57% of those who applied to highly selective institutions.
Sir Peter Lampl, chairman of Sutton Trust, which promotes social mobility through education, said the research revealed "a group of bright students who need extra support and encouragement to make the right decisions".
Sir Peter called for "more sustained and intensive support for these high-achieving young people, so that they can gain entry to the selective universities for which they are qualified".
The report defines three types of able student:
Those who apply to the most selective universities it describes as confident, competitive and assertive
Others who also fit this description but take a "rational decision" to apply to less competitive institutions based on course content
Those who are likely to be less confident, competitive and assertive, often coming from homes with "little knowledge of the requirements and benefits of selective universities".
Interviews with members of this third group once they started university showed they sometimes regretted their decisions and realised they could have chosen differently.
Sir Peter said: "It is vital that universities work more closely with schools and colleges so that talented young people from non-privileged backgrounds at comprehensive schools and colleges study the right subjects and gain the same level of confidence as those at independent and grammar schools."
Universities and Science Minister David Willetts said the government was "determined to make it easier for people to meet their aspirations and fulfil their ability irrespective of where they grew up".
"The new key information set we have introduced... brings together in one place what people want to know about employment outcomes, student satisfaction and financial support for over 30,000 university places."
Prof Les Ebdon, director of the Office for Fair Access to Higher Education (Offa), said the body's new guidance to universities would emphasise the importance of "sustained, targeted outreach".
Prof Ebdon said: "I agree with the Sutton Trust that universities and colleges should look to increase their investment in outreach activities for people from low income and other under-represented groups, to raise their aspirations and to inform their choices about higher education.
"These activities might include, for example, mentoring, masterclasses and summer schools."