Department for Education cuts 1,000 jobs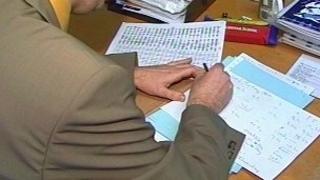 About 1,000 jobs at the Department for Education (DfE) - a quarter of its total workforce - are being cut in an efficiency drive.
Civil servants losing their jobs will be made redundant within two years, as the DfE focuses on priority work.
The DfE was making administrative cuts of 42% by 2014-15 - but following a review ordered in June, the cuts have been raised to 50% (£290m) by 2015-16.
The news was announced to staff on Tuesday, prompting concern from unions.
BBC political correspondent Carole Walker says Education Secretary Michael Gove has gone further than any of his Cabinet colleagues in slashing the costs of running his department and this will increase the pressure on other ministers to follow suit.
Whilst all departments will have to find savings of about a third by the next election, Mr Gove says he will halve his administrative costs by the year 2015-16.
Regional offices close
Six regional offices of the DfE will be closed as the department is streamlined.
"The review has put forward proposals that will reduce the number of sites from 12 to six, maintaining a single site in central London, Coventry, Sheffield, [north-east and north-west England] and Nottingham.
"These proposals would generate savings of around £15m per annum."
The review report says decision-making at the DfE is often "slow and laborious", with "unclear roles and processes".
It says new ways of working will remove "the barriers which sap energy and prevent people being as effective as they can be so that less time is wasted on activities which add little value".
It adds: "Too often at present new work ends up on the desk of somebody based on their job title rather than the skills they have, and existing work is not de-prioritised to free up resources to deal with a new pressure."
The department's work must match ministers' priorities more closely in future, it says.
Efficiency
A spokesman for the DfE said: "We conducted a review to make sure we have the capability to deliver well-designed policies that have a real, measurable impact on the children and young people who need it most, while minimising costs to the taxpayer.
"The review found that the DfE has committed and hard-working staff producing high quality work, but that the department can and should work more effectively and efficiently.
"Over the coming months we will target our staff time and money on only our top priorities, cutting red tape and concentrating on the work that adds the most value. We are reducing the size of our backroom staff (eg HR [human resources], finance and IT [information technology]) and merging offices to reduce the cost of our buildings.
"The DfE had already committed to reducing its administrative budget in real terms by 42% from 2010/11 to 2014/15. Following the review, our target is a 50% reduction to £290m by 2015/16 and we have already achieved over half of these savings."
Shadow education secretary Stephen Twigg said: "While Labour support efficiency savings in the civil service, this document says certain work that isn't a ministerial priority will stop, raising the prospect that programmes and services will be axed.
"Michael Gove needs to explain to parents how this will affect them."
Union concerns
Jawad Raza, the FDA union's national officer for education, said: "Whilst the FDA welcomes aspects of the DfE review aimed at making the department's decision-making processes more efficient and avoiding unnecessary duplication in its work, we remain deeply concerned about the proposal to further cut administration budgets from the 42% already planned to 50% by 2015-16.
"This will lead to a further reduction of the workforce, with key skills being lost and will inevitably impact on the services that the DfE intends to deliver in the future.
"With cuts of this magnitude, the department will need to identify which areas of work will be abandoned to satisfy the resources required to deliver ministerial priorities."
A spokesman for the Public and Commercial Services Union said: "Michael Gove appears to want to run the education department as some kind of nightmarish, right-wing experiment, playing politics with people's livelihoods and putting at risk the very important services these civil servants provide to teachers and the public."