Gardeners and florist 'UK's happiest workers'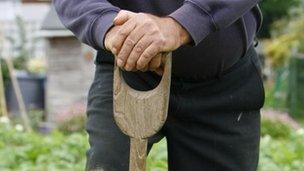 Gardeners and florists are among the happiest workers in the UK, a survey suggests.
Those working in these jobs are at the top of qualifications provider City & Guilds' index of career happiness, with many citing autonomy over their day as a boost to job satisfaction.
Those in banking and finance said they were the least happy.
The online survey of 2,200 workers paints a picture of workers looking for flexibility and control.
The City & Guilds survey suggests almost nine in 10 (87%) florists and gardeneners said they were happy in their job.
Some 80% said it was because they were able to manage their own workload and have autonomy over their schedule and daily tasks.
And 82% agreed that being able to use and hone their skills every day helped to boost their job satisfaction.
Those who ranked lowest on happiness index were bankers, with just 44% reporting they were happy.
IT and data processors came in second from bottom, with 48% saying they were happy.
Despite the presumption that these professions are often well-paid, these largely desk-based, high-pressure jobs do not appear to provide workers with fulfilment, the survey said.
Some 50% of people earning more than £60,000 a year said they had a good work life balance. This compared to 65% of those earning £20,000 to £25,000 a year.
The panel were also asked whether they felt the work they did was worthwhile. And three-quarters of those earning less than £15,000 a year said they thought they did. This compared to 64% of those who earn £60,000 or more a year.
Nick Bradley, group director at City & Guilds, said: "At a time when both happiness and employment are high on the government agenda, we wanted to link the two areas and look into what affects levels of happiness at work and in life.
"Most people spend half of their time working, so we wanted to find out what makes people happy at work and how that differs by job role.
"It's particularly interesting to see that those who have taken the vocational route are happiest and feel the most pride in their work; there's certainly something to be said from learning specific skills and working your way up the career ladder."
The findings were released to mark the opening of The Skills Show 2012, at the NEC in Birmingham.
Related Internet Links
The BBC is not responsible for the content of external sites.