Private schools 'building boom'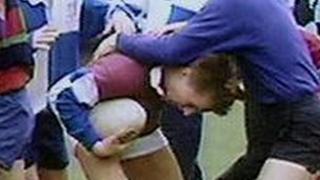 Despite the recession many independent schools in the UK are spending millions on building projects, suggests a staff survey.
Almost half (48.7%) of teachers surveyed by the Association of Teachers and Lecturers (ATL) said their school had building work planned or ongoing.
Projects included sports halls, theatres and even a go-kart track.
But ATL general secretary Mary Bousted said staff pay was frozen "while fees go up to pay for these facilities".
Meanwhile more than half of parents would send their child to private school if they could afford the fees according to a separate poll for Independent Schools Council.
Of 590 parents questioned in Great Britain some 57% said they preferred private education, up from 51% in 1997. Asked why they preferred private schools parents gave the standard of education rather than facilities as the reason.
More than half (51%) said they thought standards of education were higher in private schools, 15% said class sizes appeared smaller and 14% said they thought private school would give children a better start in life.
'Grandiose to basic'
The building works reported by ATL members ranged "from the grandiose to basic maintenance", said the union.
The most frequently mentioned projects were new or improved sports facilities such as sports pavilions, new changing rooms, Astroturf pitches and swimming pools.
The union says that a couple of teachers mentioned new rowing facilities and one school was reported to be building a go-kart track.
Elsewhere schools were building new classrooms, boarding houses, science labs and performing arts facilities, including in one case a Greek theatre.
One school was building an animal sanctuary and another in West Sussex has a biomass fuel facility.
At the other end of the scale some schools are carrying out basic maintenance on dilapidated buildings.
Dr Bousted said: "It's wonderful that so many schools can afford to upgrade their facilities and invest in our children's future.
"Hopefully we will see some future Chris Hoys, Matthew Pinsents, Helen Glovers and Heather Stannings winning golds for Britain in the Olympics in a few years' time. But schools must not lose sight of their most important asset, their staff.
"Shiny new sports halls and rowing clubs are great, but without their dedicated staff the pupils would not be able to reach their potential. While fees go up to pay for these facilities, staff are seeing their living standards fall as their pay is frozen or increased at a rate below inflation. All independent schools should reward their staff fairly."
Rudolf Elliott Lockhart, of the ISC, said the organisation's own survey showed that "the public increasingly recognised the exceptional quality of education" provided by independent schools.
"The strength of these schools lies in their ability and commitment to offer a bespoke education to their pupils, giving them the very best start in life. That more parents than ever would like to send their children to an independent school is clearly reflected in the rise in pupil numbers in ISC schools this year."