Leaked TES curriculum draft panned by experts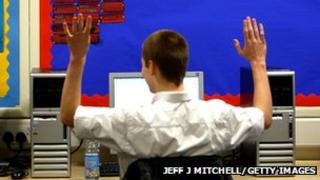 A draft copy of the new secondary curriculum for England, leaked to the Times Educational Supplement (TES), has drawn criticism from subject experts.
The draft document, also seen by BBC News, is just 30 pages long.
The leaked draft appears to confirm ministers' plans to give teachers more freedom over what they teach, providing them with only short lists of topics.
Ian McNeilly of the National Association for the Teaching of English called it "depressingly predictable".
Mr McNeilly described the new curriculum as being overly focused on a "relentless diet of canonical works".
"It is fantastic that Mr Gove has acknowledged that English as a subject needs to move into a different century. Unfortunately for all concerned, he has chosen the 19th rather than the 21st," he said.
He told BBC News: "There is no group of people who want to encourage a love of reading more than English teachers but this is more than a matter of teaching our literary heritage, you need to choose texts that are appealing to children."
He also criticised the lack of any mention of modern day communications. Instead the draft says that key stage three children who are aged 11-14 should be able to write personal and business letters "using the correct form".
"Let them be kids. They can learn to write business letters when they are a bit older," said Mr McNeilly.
"Where is drama? Where is media? Where is the 21st Century mentioned?" he asked.
'Dull list'
Science teaching experts also criticised the document.
Annette Smith, chief executive of the Association of Science Education, described the biology, chemistry and physics curricula as a "dull list of topics".
She told BBC News: "One would want to see how one concept leads to another: a sort of philosophy behind it. One would expect there to be some further description of what they want the teaching and learning of science to be or an explanation of why that isn't there."
She questioned why it had taken so long to produce and asked why it did not reflect the findings of the expert panel for the national curriculum review which reported in December last year.
Ms Smith added that teachers could work with the slimmed down curriculum as they were "intelligent and creative".
Prof Mary James, who was part of the government's expert panel, told the TES she was broadly supportive of the simpler curriculum but highlighted the fact that the sections on the overall aims for secondary education had simply been reproduced from primary programmes of study.
"The fact that, in this draft, the primary aims are simply borrowed suggests that insufficient thought has been given to these."
Academy opt-out
The Department for Education said its policy was not to comment on leaks.
The government announced a review of the national curriculum for both primary and secondary schools in January 2011. The overhauled curriculum is due to be implemented in 2014.
Ministers are committed to a slimmer more flexible curriculum to be focused on the basics and organised around traditional subject disciplines.
However by the time it is introduced it will apply to only a minority of schools. More than half of schools have applied to convert to academy schools which have the right to "disapply" the curriculum.