Graduates 'facing tougher times'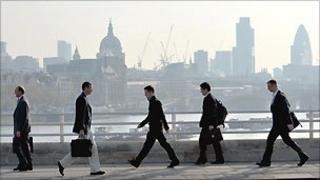 A major long-term study suggests recent graduates face a much tougher jobs market and harsher economic prospects than those from a decade before.
The in-depth Futuretrack study indicates four in 10 graduates from summer 2010 have worked in non-graduate jobs.
Almost half of the graduates, who entered university in the autumn of 2006, owe more than £20,000, it says.
But those who left without a degree face even tougher employment prospects.
They were paid less than the graduates - 70% earned below £15,000 in their first jobs, were more likely to feel at a disadvantage in the jobs market and were less optimistic about their "long-term prospects", according to the Futuretrack study, commissioned by the Higher Education Careers Services Unit (Hecsu).
This tracking project - comparing the experiences of recent graduates with those a decade before - shows that the graduates of 2010 face much more difficult financial and employment challenges.
Many of those who went to university in 2006 had to pay what was then a new upper level of about £3,000 per year for tuition fees, and then graduated into a tough, recession-hit jobs market.
Debt for those at English universities had risen by 60% compared with university leavers from 1999, the study said.
Among this class of '99, 26% were in non-graduate jobs 18 months after graduating.
This was much lower than for those leaving in 2010, where 40% have worked in non-graduate jobs, with even more having taken unpaid work at some stage since leaving university.
The study, carried out by academics at the University of Warwick, also indicates the salary advantage of having a degree has eroded during this decade - by 2% every year.
Jane Artess, director of Hecsu, said: "Graduate perceptions of the value of their degree in finding work changes remarkably after they have been in the labour market for some time, which helps us to understand the magnitude of the downturn on this group."