University finances warning as applications fall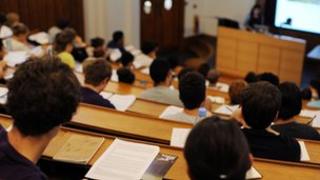 England's higher education funding body has sounded a warning over the financial health of the nation's universities.
Falls in student recruitment "caused" by the government's new higher fees policy are "a key risk" to university finances, the Higher Education Funding Council for England (Hefce) says.
At least 10 institutions predict they will lose money over the next year.
The government says its reforms ensure universities are well financed.
The report examines the predicted financial health of England's universities between 2012-13 and 2014-15.
It concludes that the projected performance of the higher education sector up to 2014-15 is generally sound, but warns about how dependent this is on universities achieving their student recruitment targets.
University admissions service figures show demand is lower than expected this year - the first year that students pay fees of up to £9,000 per year.
And Hefce's own discussions with universities show some are facing problems attracting students and their enrolments will be down by more than planned.
This could "necessitate these institutions to revisit their financial forecasts", it says. "The sector continues to operate on very fine margins, which means that even small changes can have a material impact on its financial performance."
The report goes on to say that 11 institutions are forecasting negative cash flows in the financial year 2012-13, but this is predicted to fall to 10 by 2013-14 and five by 2014-15.
'Small margins'
It says: "Despite the small margins, the short-term viability of institutions is not a concern at this point in time."
But it adds that this comes against a background of "an increasingly competitive environment and reductions in public capital funding".
"Some institutions will need to increase their surpluses beyond the current levels in order to finance future capital investment and maintain their long-term sustainability.
"If surpluses do not increase, there is a risk to the quality of the higher education infrastructure, which will harm the long-term sustainability of the sector."
The report also reveals the extent to which universities are dependent on income from foreign students.
On average fee income from overseas students has increased by 11.4% in real terms per year over the past nine, and they are predicted to have increased by nearly 25% by 2014-15.
But the revocation of London Metropolitan University's licence to recruit and teach international students from outside the EU "will have caused some reputational damage to the UK which could result in a slowdown in student recruitment that is not reflected in institutional forecasts".
'Budgetary pressures'
Sir Alan Langlands, Hefce's chief executive, said universities and colleges were projecting sound financial results but these forecasts were made before the latest student recruitment cycle.
He said: "Some institutions have experienced difficulties in achieving their recruitment targets, and may face budgetary pressures as a result.
"Despite this, the overall financial position is satisfactory, although reductions in public funding, especially for capital investment, mean that institutions will need to deploy more of their own resources to maintain their estates.
"This will ensure the long term sustainability of educational and research programmes and a high quality student experience.
"Hefce will continue to monitor the financial position closely as part of our commitment to supporting the students and institutions in adapting to the new higher education funding regime."
'Struggle'
A spokesman for the Department for Business, Innovation and Skills said: "Our reforms deliver a system that is more progressive, more sustainable and more transparent than the previous one.
"This report shows that the sector is in sound financial health, indeed it shows better than projected results. It also projects that the sector will remain in sound financial health going forward."
The University and College Union general secretary Sally Hunt said: "There is real concern among staff about the substantial drop in student numbers this year and the knock-on effect on universities' financial stability.
"The government's decision to introduce an internal market based on A-level grades at the same time as introducing much higher tuition fees have contributed to falling numbers, and some institutions will struggle to deal with the resulting shortfall in their finances.
"Those two policies were then compounded by the decision to revoke London Metropolitan University's licence to enrol non EU students, which many university staff fear will deter others from coming to study in Britain in years to come.
"At a time when UK universities really need financial stability to contribute to the revival of the economy, they find themselves facing uncertainty because of a trio of ill-thought out policies."