Shakespeare schools cash means all the world's a stage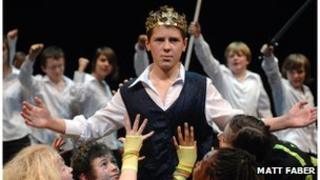 Thousands of children in the UK will get the chance to stage a Shakespeare play in a theatre to mark the 450th anniversary of his birth in 2014.
Some 50,000 pupils and their teachers will get use of a local theatre, plus expert rehearsal and staging tips.
The Shakespeare Schools Festival plans to spend £3.2m to treble the number of schools it reaches.
Education Secretary Michael Gove said he wanted pupils to "stage their own version of Shakespearean magic".
The Department for Education has announced a donation of £140,000 to help the Festival kickstart a major expansion in England, particularly into primary schools. It currently works in 700 schools but aims to reach 1,000 by 2013 and 2,000 by 2014.
The charity's chief executive, Penelope Middelboe, told BBC News there was still a lot more money to raise but said: "It is really helpful for us to know the government is supportive of the project.
Key role
"We place so much importance on the role of drama and Shakespeare in schools. We have seen it change lives. It is key to education - not just an add-on."
Concerns have been raised about the future of cultural education in schools after the government announced plans for an English Baccalaureate for 16-year-olds to be taught in schools from 2015.
The new qualification will initially be in three core subject areas - English, maths and sciences - but will later be widened to include a language and either history or geography, but no arts subjects.
Eminent figures in the arts world have voiced fears that Britain's creative economy could be destroyed within a generation if arts subjects are left out of the new qualification as schools might no longer want to put resources into teaching them.
Supporters of the change say students will be able to elect to study the arts as "option subjects".
The department is also giving the Royal Shakespeare Company £125,000 to provide all state secondary schools with a free copy of the RSC Shakespeare Toolkit for Teachers, a hoard of information on Macbeth, Romeo and Juliet and A Midsummer Night's Dream.
'Depth and power'
Mr Gove said: "I was enraptured by a Shakespeare Schools Festival performance of Macbeth by a primary school at the Royal Court earlier this year. The Festival enables students to bring the plays of the great playwright to life and does fantastic work to improve cultural education in our schools."
Ray Fearon, currently appearing in the RSC's Julius Caesar, said: "For passionate English teachers, the challenge is similar to that of the RSC, which seeks to widen access to Shakespeare's work - how to bring the depth and power of this material to a new audience without compromising its integrity or patronising that audience.
"Through the Toolkit, the RSC shows how the techniques of one of the world's leading theatre companies can be applied in the classroom to unlock some of the richest, most challenging and rewarding texts in the English language. Thanks to the Department for Education, every state secondary school will have their own copy."
Patron Jenny Agutter said the funding would help change "yet more young lives, many of them disadvantaged".
"The plays pose questions about humanity and morality. The words have a music that touches our senses. What better way for young people to understand language than taking part in SSF and discovering these extraordinary texts?"