School meal rules should apply to academies - parents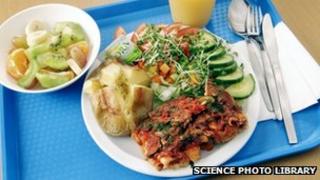 Parents want meals in academies and free schools to be bound by the same nutrition standards as those in local authority schools, a report suggests.
Some 92% of parents polled also said they wanted an independent body to ensure the standards were met.
Academies and free schools in England are not bound by government regulations on school food.
Jamie Oliver, who campaigns for better school meals, urged the government "to do something positive with the data".
The TV chef supports demands for legislation on school meal nutrition to apply to all schools. Currently academies and free schools are expected to comply with the standards on a voluntary basis.
Almost three-quarters of the parents polled (73%) also said they believed no students except sixth-formers should be allowed out at lunchtime with 35% saying they thought that even sixth-formers should have to stay on site for lunch.
Standard concerns
Some 83% of the 12,000 parents who responded to an online poll agreed that schools in areas of deprivation should be given extra money for their catering service.
A quarter of the parents polled said they wanted breakfasts to be provided by schools. More than 8% of secondary school parents admitted their children left home without breakfast.
Despite the enthusiasm for good nutrition, more than half of the parents polled (57%) said they did not know whether their child's school was definitely meeting the standards.
Some 91% of parents said they were very happy with the school meals service they received, with almost three-quarters (72%) saying the quality of the food was key and 87% saying they found school meals good value for money.
The survey was carried out for the Local Authority Caterers Association (LACA) and the online dinner money company ParentPay.
Clint Wilson, of ParentPay, said school meals staff were "on the front line in tackling public health issues".
He added: "What we need now is for the government to support this agenda with the same conviction as the industry and the same passion as our parents."
Anne Bull, of LACA, said: "While much has been achieved as the result of the hard work of schools and caterers, additional measures to enhance this progress would help children and young people achieve their potential both academically and physically."
Judy Hargadon, of Children's Food Trust, said: "What really comes through here is how much parents want the reassurance of knowing that the food their child is being offered at school will be tasty and affordable, but also nutritious - which is why school food standards have such a key part to play...
"It's great to see such support from parents for 'stay on site' policies, which mean that children aren't going out of school at lunchtime, taking away the temptation to go out and buy things like crisps, sweets and sugary drinks for lunch rather than food that will fuel them up well for the afternoon."
A Department for Education spokeswoman said: "Some maintained schools and academies have said that they find the food standards too bureaucratic, difficult to administer and rigid.
"Many academies are actually exceeding the standards and are offering their pupils very high quality, nutritional food. We have asked independent reviewers to consider the best way to help all schools offer good, well-balanced food.
"It is encouraging to see that the majority of parents are satisfied with schools meals and see them as affordable. The quality of school food is absolutely vital. That is why we are looking at the role that food and cooking plays in schools and how this can help to get our children eating well."
Shadow children's minister Sharon Hodgson, said: "This just shows Michael Gove is totally out of touch with the views of parents. They understand that school meals should be healthy and nutritious whatever type of school you attend - but Michael Gove has exempted over a million children from healthy meals.
"Labour would change that, so that the rules developed with Jamie Oliver would apply to every school in England."