GCSE English: How is it marked?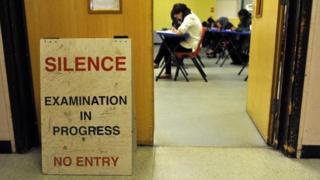 Question: How do you mark a subjective question in an objective manner?
It is a task faced by teachers and moderators of GCSE English papers every year.
GCSEs are divided into exams, which are marked by boards, and "controlled assessments" - similar to what used to be called coursework, but different because work is completed under exam conditions.
Controlled assessments are graded by teachers using a mark scheme prepared by the principal examiner and a panel of subject teachers, who set out "the kind of answers anticipated".
A "degree of subjectivity" is used in the marking of creative pieces - however a moderation process is intended to ensure fairness.
After internal moderation in each school, the results are then sent to exam boards along with samples for moderation. Grades are assigned at the later date by the exam board once further moderation and checks are completed.
It is this assignment of grade boundaries, however, which has sparked a well-publicised row over whether the grade bands were unfairly altered in 2012.
Exam boards stand accused of setting the grade boundaries too generously in January and too harshly in June. It resulted in a slight fall in the number of pupils achieving at least a C-grade, from 65.4% to 63.9% this summer.
Obtaining a C-grade in GCSE English is a crucial benchmark required for pupils wanting to continue their studies at A-level or further education college.
But a C grade or above in GCSE English is also a key element on which national league tables are based, increasing pressure on teachers to ensure their students get the best results possible.
In exam regulator Ofqual's final report on the issue, it was suggested that teachers in England were "significantly" over-marking pupils' GCSE English work this summer in order to boost results.
Subjectivity
But some teachers believe the subjective nature of the marking system in English is at the heart of the problem.
Edward Marsh, a teacher at the Glyn School in Surrey, said: "The problem with the mark scheme is that there is a huge degree of personal interpretation involved.
"Markers have to determine what are 'relevant quotes' from an attached passage, but given the direction a student's answer is heading a quote may become relevant.
"Problems are compounded with suggested marking guidelines such as identifying 'significant' evaluation. At what point does evaluation become significant?"
Others in the profession are adamant that teachers should not be to blame.
'Smokescreen'
David Blow, head teacher at Ashcombe School in Surrey and member of the Association of School and College Leaders (ASCL) data group, told the BBC: "Moderation wasn't done tightly enough. Marking is being used as a smokescreen for the real issue.
"It is more difficult to mark a piece of creative writing than a maths question... and in good faith, in marking a piece of English, there will be a spread of teacher opinion.
"But there's nothing new about marking a piece of creative work. There was a failure to moderate properly," he added.
Julia Burns, head teacher of Leicester High School for Girls, agrees it is wrong to blame teachers.
"The external markers grade the exams (as opposed to the controlled assessments graded by teachers) and that's where the issue has arisen," she said.
Exam boards produced "very precise" guidelines setting out what pupils must do for each level in the marking scheme.
"I didn't ever think you could make too much of a hash of it. The exam boards make it clear what is required for each level of the mark scheme," she said.
Example question: A place can appear to be very different if you visit it at different times of year. Choose a place that you know well and describe it at two different times of year for a travel website.
This question was taken from the AQA exam board's June 2011 foundation tier GCSE exam on understanding and producing non-fiction texts.
According to the accompanying marking scheme, students were required to show two key skills: communication through clarity of thought and effective organisation of ideas.
To attain the highest possible grade (a C-grade on the foundation tier) students had to acquire between eight and 10 marks by writing "clearly" and "with success".
AQA produced eight bullet points to explain to markers what is meant by this. They include:
Engages the reader with more detailed descriptive ideas
Writes in a register which is clearly appropriate for the audience
Employs paragraphs effectively in the whole text
Lower grades are awarded for pupils achieving the required standard with "some", "limited" or "attempted" success.
At higher level, where students can achieve between an A* - D grades (or a U for failing the paper entirely), the question and marking criteria are unsurprisingly more difficult.
Example question: Write a brief article for a website of your choice telling your readers about an interesting or unusual journey or travel experience you have had. Explain why it was memorable.
This question was taken from the AQA exam board's January 2011 higher tier GCSE exam on understanding and producing non-fiction texts.
The marking guidance is similar, however to achieve top marks, students must communicate their ideas in a "convincing" and "compelling" manner.
Additional advice given to markers includes:
Uses linguistic devices such as the rhetorical question, hyperbole, irony, in an effective and appropriate way
Shows control of extensive vocabulary with appropriately used discursive markers
Presents complex ideas in a coherent way