Call for school playing fields size protection to stay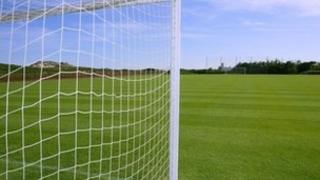 Labour is calling for ministers to rethink their plans to scrap some of the current protections for school playing fields in England.
New school premises regulations due to come into force this week will ditch the requirement for schools to have minimum size sports fields.
But the new guidelines simply calls for "suitable outdoor space" for PE and play.
The government denied protection for sports fields was being removed.
It said schools were simply being freed from burdensome regulation so they could decide what was best.
The current rules on school playing fields were introduced by Labour in 1999 to ensure schools have enough space for competitive team sports.
They specify that playing fields should be cover between 5,000 and 75,000 sq m, depending on the number of pupils.
'Olympic legacy'
They also created the general presumption that schools would be banned from selling off playing field, which can only be given by the education secretary.
It followed concerns an estimated 10,000 playing fields were sold off between 1979 and 1997.
Labour leader Ed Miliband has tabled an Early Day Motion in the Commons on the issue calling for the new school premises legislation to be scrapped.
Shadow education secretary Stephen Twigg said: "Instead of building the positive Olympic legacy the public wants, David Cameron is doing the opposite and making it much harder for young people to get involved in sport.
"We need our schools to have the best possible sports facilities so that we encourage a new generation of Olympic athletes, and healthy and active young people. By telling schools they no longer need proper playing fields the government is letting down our young people.
"Labour believes all pupils should have access to playing fields, regardless of where they go to school. David Cameron said he wanted to "spread privilege" in education - he should show he means it by reversing this decision before even more damage to school sport is done."
A spokesman for the Department for Education said: "For the first time these regulations require all schools to provide space for all the activities in their PE curriculum and for outdoor play.
"We have made the rules much easier for schools to follow by removing bureaucratic restrictions and freeing schools up to decide what is best for their pupils.
"We have not, in any way, relaxed the extremely strict statutory controls on the disposal of school playing field land. We have only approved disposals if the school has closed, has merged or if equal or better facilities are being put in their place."
He added that current regulations were so prescriptive that they meant, for example, that, if a 900-pupil secondary school wanted to take one additional pupil in one year they would need to find a whole extra football pitch.