Viewpoints: Tougher teacher training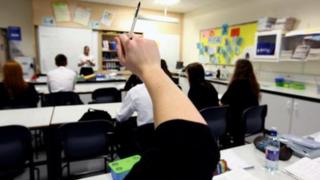 Teacher trainees in England are to face tougher tests in English, mathematics and reasoning after the government said it wanted to raise the quality and standing of the profession.
The new entry tests for people wanting to become teachers were developed by a panel of heads and experts following complaints current tests were too easy. Education Secretary Michael Gove says the "rigorous selection" of trainees is key to raising standards.
Here a selection of individuals involved in teaching and education organisations give their opinions on the forthcoming changes facing new teachers:
Brett Wigdortz, Teach First
I welcome efforts to ensure that all teachers have the potential to be excellent teachers and to raise the status of the teaching profession.
We have set a high bar for entry to our leadership development programme and these tests will form part of the selection process.
Our teachers work in schools where the majority of pupils come from the country's least advantaged communities.
It is important that they have levels of numeracy and literacy which enable them to support pupils learning, regardless of the subject they teach.
It is, of course, not just about literacy and numeracy.
By the time our teachers get to take these tests they have already been through a rigorous assessment process which tests for key attributes which are essential ingredients for being an excellent teacher, such as resilience, leadership and humility, respect and empathy.
Beyond initial teacher training, it is essential that all teachers have access to high quality continuing professional development (CPD) courses.
This is so that they can continue to develop their skills and subject knowledge throughout their careers.
Sheila Cooper, Girls' Schools Association
High levels of numeracy and literacy are of course vital for all teachers and should be expected; but this is not going to solve the real problem which is attracting more high quality graduates into the profession.
What we need is for teachers to be viewed and valued as highly skilled professionals in the same way as are our lawyers and medics.
Expecting trainee teachers to sit specific numeracy and literacy tests will not send out the right messages to attract the calibre of teachers we expect to join the profession.
If there is an issue with teachers falling short in these skills then perhaps the selection process to enter teacher training needs to be addressed.
Sir Peter Lampl, Sutton Trust
I welcome today's plans to toughen English and maths tests for new teachers. All teachers should have a firm grasp of the basics. Too often the importance of maths, in particular, is underrated. Yet it is increasingly essential in every walk of life.
But the priority must be to upgrade the skills of the 440,000-strong existing workforce, not just in English and maths, but in wider teaching skills.
Sutton Trust research has shown that England would become one of the top five education performers in the world within 10 years if the performance of the country's least effective 10th of teachers were brought up to the national average.
Verity O'Keefe, EEF - the manufacturers' organisation
Employers want to see a quality workforce of teachers and we must develop such a workforce if we are to compete with the best the world can offer.
Introducing more rigorous testing, with tougher questions that test candidates' use of English and banning calculators when testing numeracy skills, will give businesses confidence that the government is serious about producing more highly-skilled teachers that are able to teach the next generation of workers to the best possible standards.
We know that many employers look for educational attainment in key subjects such as English and maths when recruiting young people, but to drive such attainment we must also address the quality of how these subjects are being taught.
Knowing that teachers are required to pass rigorous tests in numeracy and literacy will be welcome news to employers.
EEF recently set a benchmark for 65% of school-leavers to achieve five GCSE A*-C grades including English and maths by 2015.
If we want young people to be achieving such levels of attainment then it is more than reasonable for prospective teachers to be achieving what is equivalent to a grade B at GCSE.
Of course government could still do more, including getting more teachers with specialist knowledge of Stem [science, technology, engineering, and mathematics] subjects and top class degrees into schools.
Dr Helen Wright, St Mary's Calne, Wiltshire
Our children deserve the very, very best teachers.
The first and most important conclusion of the 2007 McKinsey Report into high-performing school systems was that the quality of an education system cannot exceed the quality of its teachers.
In fact, this is commonsense: our teachers have to be exceptional if they are going to teach and educate exceptionally well.
Teaching should be a hard profession to get into, and the qualifications to become a teacher should be high; we should not be responding to a shortage of teachers by lowering standards, but by making it an attractive profession in other ways - respected, well-salaried, well-resourced.
By all means raise the entry-level standards - our children can only benefit in the long run.