Trainee teachers to face tougher entry tests
By Hannah Richardson
BBC News education reporter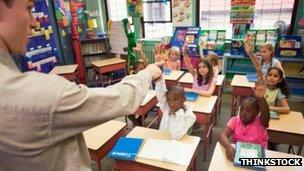 Entry tests for people wanting to become teachers will be more rigorous to raise the quality and standing of the profession, the government says.
Teacher trainees in England face tougher tests in English, mathematics and reasoning from next September.
They were developed by a panel of heads and experts following complaints current tests were too easy.
Education Secretary Michael Gove says the "rigorous selection" of trainees is key to raising standards.
He added: "These changes will mean that parents can be confident that we have the best teachers coming into our classrooms.
"Above all, it will help ensure we raise standards in our schools and close the attainment gap between the rich and poor."
The move follows a government-commissioned review by a panel of heads and educationists of the current skills tests for people wishing to become teachers.
The new exams replace simple arithmetic with more complex mathematical problems without the help of calculators.
And there will be longer written exercises rather than straightforward word identification. In English, as now, candidates will be tested on spelling, grammar and punctuation.
The pass mark has been raised and there are also questions in verbal, numerical and abstract reasoning.
These will take the form of on-screen and verbal tests to assess the candidates' ability to solve problems, recognise patterns, think laterally, evaluate and analyse issues.
But, perhaps most importantly, from September 2013 anyone wishing to train to be a teacher must pass these tests before attending a training course. Currently trainees sit these later on in their course.
Candidates will also be limited in the number of times they can retake the test, being allowed to sit it three times. Anyone who fails three attempts will not be allowed to take the test again for a further two years.
But unions have expressed concerns about the move - saying it places too much emphasis on those who are new to teaching.
Association of Teachers and Lecturers past president Julia Neal said: "If you're going to raise standards it's not just about recruiting teachers in the first place, it is actually keeping them and retaining them.
"I do think that sometimes there's a message going out which is really just undermining the profession. Are we saying that teachers at the moment aren't good enough because they haven't passed these tests?
"I do worry about the message that's going out about the profession."
The current tests were introduced between 2000 and 2003, amid concerns about the standard of teachers' literacy, numeracy and ICT.
The government says the plans are part of wider measures to raise the quality of teachers in England to match the best-performing countries in the world.
Charlie Taylor, chief executive at the Teaching Agency, which is responsible for administering the new test, said it was part of his strategy "to create an outstanding workforce of teachers".
"This is what parents expect and children deserve.
"We also want teaching to be a real choice for top graduates and by raising the bar on entry, we will further raise the status of the profession."
Christine Blower, general secretary of the National Union of Teachers, said all teachers needed strong literacy skills and a good grasp of mathematics.
"It is however surprising that Michael Gove is showing such interest in the entry requirements for teacher training courses, while at the same time advocating that schools should be free to employ unqualified teachers.
"The real issue is the training and support that teachers are given once they have entered into teaching training."
Shadow schools minister Kevin Brennan said Labour supported efforts to raise the quality and status of teachers, but that other measures were needed.
"We need more high flying applicants, and Labour has set out plans through our New Deal for Teachers to expand schemes like Teach First, improve training and on the job development and incentivise bright graduates to teach in less well off communities.
"However, the government continues to insult teachers and damage morale with its extreme policies and out of touch rhetoric.
"Michael Gove called teachers 'whingers' and 10,000 teachers have left the profession. That is putting school standards at risk."
Related Internet Links
The BBC is not responsible for the content of external sites.