Heads warned by OFT over school uniform costs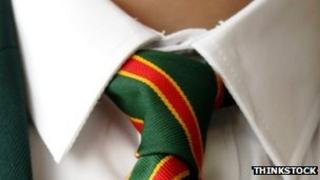 UK parents are paying £50m a year too much for school uniform, the Office of Fair Trading has said.
It has written to all UK head teachers, asking them to review the arrangements they make for the sale of school uniform.
A survey for the watchdog suggests three-quarters of England's state schools place restrictions on where items can be bought.
This could act as a "tax on families" and prevent shopping around, it said.
It said in the letter to heads that some items of uniform sold in a restrictive way could cost more than double the equivalent supermarket price.
'Out of pocket'
In one example, the average price of a secondary school's sweatshirt sold under restrictive arrangements was £12. This compared with an £8 price tag at competing retailers and £5 at a supermarket chain.
Susan Oxley, assistant director in the OFT's goods and consumer group, said: "When schools require that uniforms are bought from a preferred supplier or shop it can act as a tax on families, which mostly goes to the chosen retailers.
"However, when families are able to shop around for school uniform items it can drive competition and bring down prices for all.
"We know schools don't want families to be left out of pocket and we have written to schools across the UK asking them to review their policies and supplier arrangements."
The letter urged all heads to end any arrangements with a single retailer or supplier.
"Alternatively, where these arrangements are considered unavoidable, we encourage schools to introduce competition into the process of choosing that retailer or supplier," it added.
The survey of 29,500 schools found that many used a single supplier for a number of reasons, including wanting a consistent, good quality uniform and convenience for parents.
The OFT said schools could still have "smart" school uniform policies without appointing a single supplier.
It suggested that schools could achieve consistency through setting out colour and style requirements in more detail but still allow parents choice about where to buy items.
The OFT's claims were backed up by the Nasuwt teaching union, which recently conducted an online survey of 2,500 parents that suggested most were paying more than £100 for a single uniform.
Trips and meals
Nasuwt general secretary Chris Keates said: "It won't be long before some parents find that the cost of school uniform, curriculum activities and equipment in some schools puts admission to the school of their choice way beyond their financial means."
Christine Blower, general secretary of the National Union of Teachers, said: "Children and young people grow out of their uniforms at a rapid rate. The issue of long lasting quality is far outweighed by the amount of times a new uniform has to be bought.
"If we are to try to address issues of poverty and the barrier it provides to education, then the cost of school uniforms alongside the cost of shoes, trips and school meals, must be kept down."
Schools were warned back in 2009 to ensure that their uniforms were available from a number of suppliers and were not prohibitively expensive.
Present Department for Education guidance says: "No school uniform should be so expensive as to leave pupils or their families feeling unable to apply to, or attend a school of their choice, due to the cost of the uniform."