Councils warn against top-slicing children's funding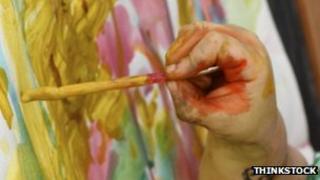 Proposals to top-slice funding for disadvantaged children in England could backfire, council leaders have warned.
The Local Government Association (LGA) has written to Education Secretary Michael Gove asking him to justify withholding £150m a year for two years.
The government says it wants to administer the cash centrally instead of handing it to councils.
In the letter, LGA chairman Sir Merrick Cockell said: "We are very anxious to understand how the money will be used."
The funding is currently part of the Early Intervention Grant paid by central government to local authorities in England to support early years and family intervention programmes, including Sure Start Children's Centres.
Under the proposals, it would no longer be paid in the form of a separate grant.
Instead two-thirds of it would fund free nursery education for two-year-olds from poorer homes and some of it would be given to councils to spend as they see fit.
The LGA is asking for "reassurance" that the £150m a year that the government wants to control "will be returned to councils to support vital front line services".
The councils are concerned the plan could mean they would not have enough money to meet their statutory responsibilities to vulnerable children.
The letter suggests that the £150m top-slice would represent a "reduction of around £1m by each council in early support to children, young people and families that need it most".
Sir Merrick adds: "I fear this move is counter-productive because it will force local authorities to cut early intervention services even further, which will inevitably lead to increased demand for more costly longer term or lifelong interventions.
"Removing local authorities' freedom to allocate funding inevitably means greater pressure on other services."
The government held a 12-week consultation on the proposals, which ended in September.
A spokeswoman for the Department for Education said: "We are increasing overall funding for early intervention, rising from £2.2bn in 2011-12 to £2.5bn in 2014-15.
"This money has never been ring-fenced, so local authorities have more freedom to spend it where it is needed to help disadvantaged children and families.
"Our proposals to retain £150m to spend specifically on early intervention will support disadvantaged children and families."
Dame Clare Tickell, chief executive of Action for Children, said: "The government has shown a strong commitment to early intervention. It is vital that this is not undermined.
"The uncertainty about the future of the Early Intervention Grant is potentially disastrous for local services, which would be unable to plan confidently for the future.
"We're seeing the number of families coming to our children's centres needing help rising, when they are already stretched as it is.
"If we don't act now we'll have even greater problems to support when we have even less money to do something about it, a perfect storm.
"We know that children's centres work and that they provide proven benefits to the tax payer, but without the backing of the Early Intervention Grant, local authorities are going to be forced to make impossible choices with even tighter budgets. "