Small drop in teenagers scoring five good GCSEs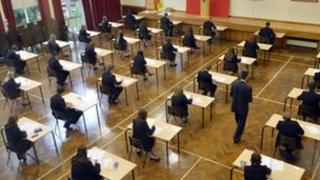 The proportion of teenagers achieving at least five good GCSEs including English and maths has fallen for the first time, official figures show.
In total, 58.6% of pupils in England achieved five A*-C grades, down almost 0.5% on 2011, government data says.
Statisticians said the drop could in part be due to a fall in the number of private school English GCSE entries.
But head teachers have expressed concerns this year's English GCSE grading row would affect the results.
Late and dramatic changes to GCSE grade boundaries, which left many pupils with the same mark on different grades, are the subject of a legal challenge by heads, local authorities, pupils and teachers.
'English shambles'
This is the first time that the number of pupils scoring five A*-C grades including English and maths has fallen since 2004-05, when the government changed the way it collects the figures.
The percentage of pupils getting five good GCSEs is particularly important because it is the measure by which secondary schools are judged. It is the headline measure for school league tables in England.
Association of School and College Leaders general secretary Brian Lightman has predicted an increase in the number of schools who fail to meet their target of 40% of pupils obtaining five good GCSEs.
And Russell Hobby, general secretary of the National Association of Head Teachers, said: "This year, unfortunately, GCSE achievements have been overshadowed by the shambles surrounding English.
"Having seen grade boundaries moved between January and June, and papers regraded in Wales but not England or Northern Ireland, it is our feeling that the drop in the number of students getting five A* to C including English and mathematics is related to this.
"We can see from the data that schools are continuing to make excellent progress but nevertheless, thousands of young people have had their results and their futures hampered by the GCSE marking fiasco."
Foreign factor
Government statisticians said the reasons for the fall in GCSE result was complicated, but highlighted a drop in the number of pupils from private schools being entered for GCSE English.
The data shows private school entries for the subject fell from 92% to 87% between 2011 and 2012.
Statisticians say this is because of an increase of foreign students at independent schools taking different examinations aimed at those with English as a second language.
The statistics, published by the Department for Education, show the numbers of teenagers achieving this benchmark has risen by 0.1 percentage points in state schools alone.
In total, 58.3% of state school pupils achieved at least five Cs, including English and maths.
More than four in five pupils (82.5%) from all schools in England gained five or more GCSEs at grades A*-C in any subjects, up two percentage points on 2011.