Schools 'should help pupils mind their manners'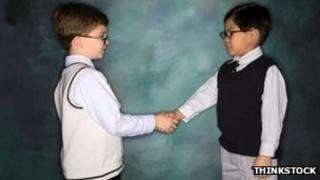 Schools should give compulsory lessons in manners to tackle a decline in politeness, a survey suggests.
The poll with a panel of 1,000 UK adults for supermarket chain Waitrose shows 72% thought good manners had deteriorated.
More than 60% blamed parents for this, according to the survey.
But 70% of people believed the answer to the problem lies in schools, and backed calls for manners lessons to be part of the national curriculum.
Mark Price, managing director of Waitrose, said: "In school it used to be the teaching of the three Rs which was considered the mainstay of a good school education but as this survey shows, people would prefer the "four Rs" - reading, writing, arithmetic and respect.
Giving up seats
"There's clearly a mood for a renewed focus on teaching good manners but, rather than suggesting this has to be taken on by any particular group of people, perhaps the real answer is for all of us to take responsibility through the example we set every day?"
Failing to say "please" and "thank" you was cited as the most irritating example of poor manners by survey respondents.
And the traditional handshake is still considered an appropriate way of greeting one another, with 50% preferring it to a peck on the cheek or an embrace.
The notion of respecting one's elders appears to be alive and well. Nearly 60% of those polled claiming to give up seats to the elderly on public transport.
A spokeswoman for the National Union of Teachers said: "Socrates and Plato also bemoaned the behaviour of the youth of the day so this is most definitely not a new perceived problem for society.
"Courteous and respectful behaviour in schools is essential but is as much 'caught' as 'taught' in the home as at school. The ethos of the school should encourage courteous behaviour in the playground and corridors as well as in the classroom."
The survey, carried out by OnePoll online, coincides with the supermarket chain's new book, How Rude! Modern Manners Defined, mark the 75th anniversary of it joining the John Lewis Partnership.