Cutting nursery staff ratios 'may reduce care quality'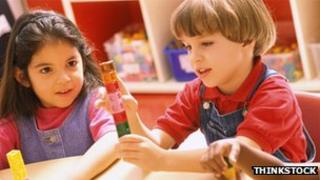 Attempts to make nurseries more affordable by letting staff look after more children at a time may reduce the quality of care, campaigners have said.
The government is considering cutting staff-to-child ratios as a way of reducing childcare costs to parents.
The Preschool Learning Alliance says its members fear such a change would risk children's safety and well-being.
Chief executive Neil Leitch added such a move was unlikely "to reduce the financial burden on parents".
Earlier this year, a report by Elizabeth Truss MP, now education minister, said staffing ratios in nurseries should be reduced to cut red tape and costs.
Her proposal is being considered by the Childcare Commission, which has been charged by the government with finding ways to make childcare more affordable and reduce any unnecessary regulatory burdens on childcare providers.
For children over three years old, the rules currently stipulate one member of staff for every eight children. For two- to three-year-olds, each member of staff should care for no more than four children. And for children aged under two, there should be one member of staff for every three children.
A Preschool Learning Alliance survey of more than 500 childcare providers found the vast majority (94%) did not believe they would be able to maintain their current quality of service if staffing levels were reduced.
'Inadequate funding'
One of the organisation's key concerns is that the government is not providing enough money to fully fund the 15 hours per week free nursery education that it guarantees all three- and four-year-olds in England.
Only 10% of day nurseries and pre-school managers who responded to the survey said they received adequate funding to cover the cost of these free places - a sharp drop from the 38% who, in a similar survey in May this year, said the cost was fully covered.
Three-quarters (75%) of respondents to the latest survey said the shortfall in funding meant they would be unlikely to reduce their childcare fees even if the government lowered staff-to-child ratios.
The government plans to extend free entitlement to 260,000 disadvantaged two-year-olds by September 2014.
Mr Leitch said the failure to consult on the level of funding for the free places was a "glaring omission" at the heart of the Childcare Commission's consultation. He pointed out that the National Audit Office had called for a review of early years funding levels.
He argued that any reduction in costs brought about by reducing ratios was unlikely to result in a reduction in the fees charged to parents as "the additional revenue would go part-way to addressing the historic inadequacy in funding".
Free nursery hours were introduced in England by Labour and funded by extra money paid by government into the local schools grant to be distributed by local authorities.
The Preschool Learning Alliance says the government funding was never enough, so nurseries had to subsidise the free places themselves. They also have concerns that some local authorities may not be passing all the funding onto nurseries.
The survey also indicates little appetite for deregulation, with more than eight in 10 respondents (83%) saying Ofsted's role in the sector should be about the same and that nine in 10 (91%) saying regulations are at about the right level.
Some 68% of respondents complained that the Childcare Commission had not consulted enough with the people who actually ran nurseries and pre-schools. In particular they were annoyed that the commission's consultation was carried out during July and August, when many childcare staff and parents were on holiday.
A Department for Education spokeswoman said: "Rising childcare costs are a huge issue for parents. It is clear the current system needs big improvements. We have set up the Childcare Commission to examine in detail what reforms need to be made. We are listening very closely to front-line professionals and to parents.
"We are looking at best practice in countries such as France, Germany, the Netherlands and Denmark, where high quality and greater professional autonomy have been successfully combined. We will be setting out next steps in due course."