Parents not schools boost exam success, study suggests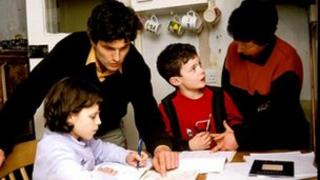 Supportive parents do more than good schools to boost children's exam results, a study suggests.
Parents who help with homework and attend school events can outweigh the effect of weak schools, according to researchers in America.
The team analysed data on more than 10,000 teenagers across the US.
Co-author Dr Toby Parcel, of North Carolina Sate University, said: "Our study shows that parents need to be aware of how important they are."
Dr Parcel, a professor of sociology, said parents "should invest time in their children, checking homework, attending school events and letting kids know school is important. That's where the payoff is."
The researchers found that pupils whose families were supportive of their education and involved in school life but attended weaker schools performed better academically than students who attended effective schools but whose families were disengaged.
"In other words, while both school and family involvement are important, the role of family involvement is stronger when it comes to academic success," explained Dr Parcel.
Random selection
The researchers say that children gain benefits - social capital - from both school and their family relationships. They set out to define which was more important in boosting children's exam results, analysing data on 10,585 teenagers from 1,000 randomly selected secondary schools collated by the US National Longitudinal Educational Study.
The data includes information on schools' achievement scores, parents' involvement in homework and school events and students' exam results
The researchers defined the most important factors in the relationship between parents and children as trust, good communication and active engagement in a child's academic life.
They also defined effective schools as those with the ability to serve as a positive environment for learning, involving students in extra-curricular activities, strong teacher morale and the ability of teachers to address the needs of individual students.
The researchers say their findings suggest that government social policy should focus on improving parenting skills rather than focusing solely on "fixing schools".
"Although investment in school social capital may be beneficial, our results suggest that investment in family social capital would reap greater returns."
Social divides
As well as urging parents to become more involved in their children's development they suggest the wider introduction of flexible working patterns.
"One possibility is expansion of supportive workplace policies, such as flexitime, that would allow parents to attend school meetings and participate in extra-curricular activities with their children without adversely affecting their jobs."
The authors suggest more support for good parenting practices would help shrink social divides. They cite previous research which has argued that middle class and working class or poor children experienced "unequal childhoods".
"Middle class parents use concerted cultivation, creating a full schedule of activities for their children to encourage academic development.
"In contrast, working class and poor parents schedule far fewer activities and instead view child development as accomplishment of natural growth. They are less likely to actively play with their children, leaving offspring more time to spend in free play. They also talk with their children less."
The paper is published in the online journal Research in Social Stratification and Mobility.