£5m pledge for school World War I battlefields trips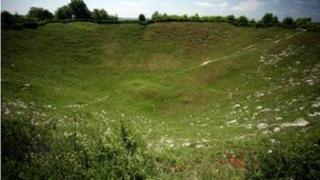 A total of £5.3m is being pledged to fund trips to the World War I battlefields for thousands of pupils in England.
The money will cover a visit for a minimum of two pupils and a teacher from each state-funded secondary school, the government says.
Education Secretary Michael Gove said children would learn about the sacrifices made "to secure our nation".
The project is part of plans to mark the centenary of the start of the war.
Prime Minister David Cameron has pledged £50m for a "historic" commemoration, including a programme of national events and the "transformation" of the Imperial War Museum.
The battlefields plan is part of an educational programme the government says will "create an enduring legacy for generations to come".
Schools will be encouraged to take groups to battlefields - such as the Somme, Verdun and Fromelles - and take part in remembrance ceremonies on the Western front, say officials.
'Bravery and suffering'
The budget is worked out on the basis of two children and a teacher travelling from every secondary school in England, with the aim that the funding will encourage schools to take larger groups.
Officials say children who do not visit will benefit from learning about the experiences of those who do and say schools could set up their own commemoration projects, for example collecting photographs and uncovering local stories.
Mr Gove said: "The men who gave their lives in the Great War will remain heroes forever. The last British veteran has now died, but their bravery and suffering must never be forgotten.
"This project will ensure that never happens by leaving a lasting legacy of this hugely significant period of our nation's history and culture.
"Children will learn, at first hand, about the sacrifices made by individuals and communities to secure our nation and protect our liberty. This tangible experience will reinforce what they have learnt in the classroom."
The project will cost £5.3m, from 2013 to 2019, with half the money coming from the Department for Education and half from the Department for Communities and Local Government.
A single tour operator will be chosen to run the visits from the spring of 2014 until spring 2019.