GCSE fiasco 'leaves schools with failing tag'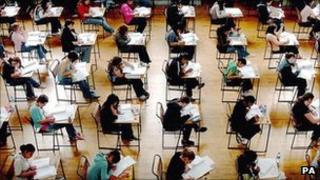 This summer's English GCSE grading fiasco will render this year's school league tables invalid, and leave many schools unjustly labelled "failing", head teachers' leaders say.
ASCL general secretary Brian Lightman said a quarter of schools saw dramatic falls in the headline GCSE scores used to measure success.
It comes after grade boundaries were changed part way through the year.
Exam regulator Ofqual has refused to order regrades.
In an open letter to the chairman of the Commons Education Committee Graham Stuart, Mr Lightman said a "gross injustice" had been done to many young people.
'Profound crisis'
He said his union, the Association of School and College Leaders, which is part of a group threatening a judicial review of the grading decisions, had amassed a vast amount of feedback from schools over the past few weeks.
He warned that the series of events had led to "a profound crisis of confidence amongst school and college leaders, teachers, parents and students in our current examinations system".
He said his union's own research suggested about a quarter of secondary schools nationally saw a drop of at least 10 percentage points in the number of pupils gaining five GCSEs A* to C including English and maths.
And a further fifth saw drops of 15 percentage points.
He added: "The schools involved are a complete cross-section including academies, 'outstanding schools', rural, inner city etc.
"The key overt distinguishing factor" was the time pupils sat certain parts of the English exam.
He told the BBC the results were "causing havoc", adding: "It's completely skewing the results of many different schools."
He said: "It renders invalid this year's performance league tables and the data that's used for the basis of the whole accountability system because they are not results that reflect trends within schools.
"It has pushed lots of schools below the floor standards."
This means that they will effectively be classed as failing by official standards.
He said that an early survey of members suggested at least 160 extra schools would fall below the target of getting 40% of pupils getting five good GCSEs including English and maths.
The Department for Education would not comment on the claims, saying the issue was a matter for exams regulator Ofqual and the exam boards.
Ofqual has already said in an interim report on the issue that the January grading was too lenient, and is standing by the harsher June grades. It is due to report more fully on the issue shortly.