Head teachers take GCSE battle to court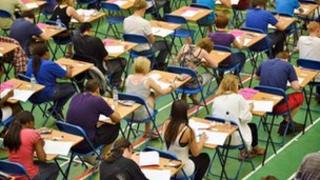 The dispute over this year's GCSE English results is going to be contested by a legal challenge from head teachers and local authorities.
This unprecedented move follows claims by head teachers that grades were unfairly manipulated downwards.
After a meeting with lawyers it was announced that a judicial review will be sought within the next week.
Head teachers' leader Brian Lightman said that so far there had been a "completely inadequate response".
Heads want to have the disputed exam papers regraded - and have rejected the offer that pupils should be able to retake the exam in November.
'Damage limitation'
Ofqual, the exam regulator, has refused to such a regrade and has defended the integrity of the grading process this summer.
But it is investigating the quality of exam marking, following complaints about the unreliability of some results.
"We are very disappointed that Ofqual and the awarding bodies have refused to take responsibility for their actions and to acknowledge that many thousands of young people's career ambitions have been undermined by a failure to implement the new qualification properly," said Mr Lightman, general secretary of the Association of School and College Leaders.
Mr Lightman said that head teachers and other supporters are "determined to proceed to legal action".
"Telling students whose papers were downgraded that they can re-sit the exam early is a completely inadequate response. It is a damage limitation exercise that will only erode public confidence in the exam system further.
"We know that thousands of students who sat the exam in June and got a D grade achieved the same level of work as their fellow students who took the exams in January and received a C. It is only because of when they took the exam that they are being penalised and told to re-sit the exam. This is unfair."
After another meeting on Tuesday about the GCSE dispute, another heads' leader, Russell Hobby, also pledged backing for legal action - and claimed that Ofqual had "lost credibility".
Ofqual has rejected such claims and says that examiners had acted properly and set the boundaries correctly.
Following an earlier threat to launch legal action, an Ofqual spokesman had said that the regulator would be "rigorously defending our decisions".
But further complicating the dispute, the Welsh government has ordered a regrading for its own pupils - many of whom were taking the same exam papers as their English counterparts.