Ofqual investigates standards of exam marking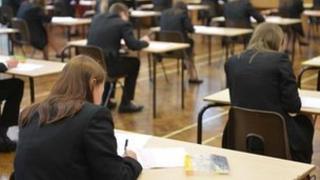 England's exams regulator Ofqual is holding an investigation into the quality of exam marking.
The watchdog's chief executive Glenys Stacey says the watchdog is listening to concerns raised and wants to talk to the exam boards "to see if arrangements can be improved".
There have been complaints from some head teachers about marking standards.
An exams conference in Cambridge heard claims that some teachers were marking scripts at 5am and then after school.
Marking worries
Ms Stacey said there was "a particular concern" about marking and that the review would explain how the marking system worked, how the quality of marking was controlled and show how it was carried out by different exam boards "to see if arrangements can be improved".
She said Ofqual had been talking to private school head teachers about marking and said: "Concerns have been expressed about how appeals are managed."
Leaders of the Headmasters' and Headmistresses' Conference have attacked the process by which exam results could be challenged.
One delegate told the conference marking was a "pressurised system", with teachers doing online marking from 5am and then returning "en masse" to do more at 4.30pm.
The conference, organised by Cambridge Assessment, addressed "risk in the exam system" and brought together experts in the field.
On marking, Ms Stacey said: "Teachers are marking around the school day. I wonder if people understand the logic to it. 15.5 million scripts were marked this summer - 100 million items - done in a six week window.
"As other things change, we need to keep a close eye. The risk is that our marking capacity may slip."
Russell Hobby, head of the National Association of Head Teachers, said an investigation into marking was needed.
He said it seemed more schools were appealing against marking and the results pupils had been given, with suggestions of a 10% increase in appeals lodged.
"There are lots of anecdotes about the scale of errors and reports of the 5am markers raise huge issues," he said.
"You get stories about the person who does it [exam marking] down the pub with the football on in the background.
"If you are doing it at the end of a 12-hour day, I don't think you could have a lot of confidence in that always being reliable."
Earlier, in her speech, Ms Stacey had words of warning about the pace of changes planned for England's exams system.
"Reform... it's risky isn't it. Some assessment experts will tell you ...it takes five years to deliver [fundamental reforms] and 15 years or even longer to bed in. Politicians have much shorter time frames in mind."
She said ways needed to be found that did not put ministers' policy development at risk but did not threaten the future of students either.
The Ofqual chief also said the move towards the "franchising" of some exams to single exam boards could bring "financial turbulence" to some of them.
Under plans to shake up the exams taken by 16-year-olds in England, there will only be one exam board for each subject, unlike the present system where a number of boards offer competing GCSE exams.
Ms Stacey said the change could lead to a "risk of viability to some exam boards".
Ofqual is facing a legal challenge from head teachers and councils over the grading of English GCSEs this summer.
Critics say the watchdog unfairly ordered the raising of "grade boundaries" so that thousands of pupils who were to be given grade Bs or Cs were eventually given lower grades.
Ofqual maintains it acted fairly and within its powers to maintain the standard of GCSEs.
An alliance of heads and local authorities is expected to announce that it will press ahead to seek a judicial review of the watchdog's actions.