Angry heads say GCSE battle goes on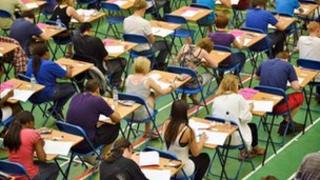 Head teachers say they remain committed to legal action in the unresolved dispute over GCSE English grades.
A summit of heads and teachers' unions met in Leeds to discuss the GCSE controversy - in which schools have protested that grades were unfairly manipulated downwards.
Head teachers' union leader Russell Hobby said the regulator Ofqual had "lost credibility".
Ofqual has rejected calls to regrade this summer's English exams.
"There was a great deal of anger expressed about Ofqual's retreat to statistical arguments," said Mr Hobby, general secretary of the National Association of Head Teachers, after a meeting at Leeds Town Hall.
"The alliance remains committed to legal action as the current best way to ensure fairness for this year's GCSE students.
"Most delegates clearly felt Ofqual had lost credibility and expressed a desire to build a rigorous, profession-led examination system rather one that becomes the playground of politicians and business interests."
'Unreliable'
The meeting in Leeds brought together representatives of the NAHT, the National Union of Teachers, the Schools Network and Leeds City Council.
Months after the results were issued the dispute over this summer's results continues to rumble on - with the threat of legal action from an alliance of schools and local authorities.
Heads have argued that exam grade boundaries were shifted unfairly in an attempt to prevent exam results rising - meaning that C grades were pushed down to D grades.
Ofqual has rejected such claims and refused suggestions that the exam papers should be regraded.
The regulator said that examiners had acted properly and had set the boundaries correctly and that pupils had received the proper grades.
But further complicating the dispute, the Welsh government has ordered a regrading for its own pupils - many of whom were taking the same exam papers as their English counterparts.
The leaders of independent schools added their voices to the disquiet, publishing a report that claimed that the exam system had become unreliable and unfair.
Speaking ahead of Tuesday's meeting, Councillor Judith Blake, Leeds City Council's executive member for children's services said: "Here in Leeds we are determined to get a fair decision for our young people, which is why we are leading the national consortium calling for a judicial review."