School kitchens left out of new building regulations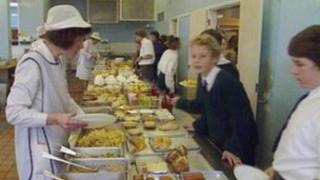 School dinners will be put at risk by new premises regulations that no longer require schools to have proper kitchens and canteens, say campaigners.
The facilities needed to cook and serve pupils' meals in English schools were spelled out in the old document but left out of the new one.
The Children's Food Trust says it is disappointed that the rules have been watered down.
The government says the changes simply remove unnecessary duplication.
The previous regulations demanded that schools provide buildings that "allow for the preparation or serving of food and drinks and the washing of crockery and other utensils".
They also said schools should consider providing "adequate facilities" such as cold storage for food that pupils bring to school.
The new premises rules make no mention of these requirements.
'Fit to learn'
Anne Bull, of the Local Authority Caterers Association, voiced disappointment at the weakened regulations.
"As part of the government's targets for reducing obesity levels and its aim to improve children's health through better diets and lifestyles, school meal providers are expected to prepare nutritious meals from fresh ingredients," she said.
"Not having kitchen and dining facilities clearly specified within the new school premises regulations shows a worrying contradiction in policy."
Ms Bull added that complying with nutritional standards of school food was compulsory for all local authority-run schools. These standards require schools and caterers to provide a daily hot meal for pupils, as well as free school meals for those that are eligible.
"It would be impossible for them to comply with the law without appropriate kitchen and dining facilities being retained by head teachers and also included in the planning for new school builds," said Ms Bull.
A Children's Food Trust (CFT) spokesman said: "We know from our research that in places where more schools have the facilities to cook from scratch, more children tend to take up school meals and young people themselves tell us that where they eat is actually more important to them than what they eat.
"So if we want more pupils to be eating well during the school day, we need to support good kitchens and dining areas."
In their response earlier this year to a consultation on the new regulations, the CFT said: "In our view, the removal of these regulations could directly lead to the degradation of the school food service".
The response said that many existing school kitchens were outdated and poorly designed. It called for the 1999 regulations to be kept and expanded to include dining areas.
"If schools want pupils to be fit to learn, with an understanding of what it means to eat well, they need efficient kitchens, cooking fresh, healthy meals, and attractive dining areas where children want to spend their lunchtime," it said.
A Department for Education spokesperson said: "Recent statistics show 99% of secondary and 73% of primaries have their own kitchens, an increase since last year.
"More and more children are opting to eat a school meal at lunchtime - 167,000 more this year alone. Our independent review of school food will examine how schools can do more to ensure children eat a healthy school meal. We will look carefully at the recommendations once their work is complete."