Overseas students: No more night queues to register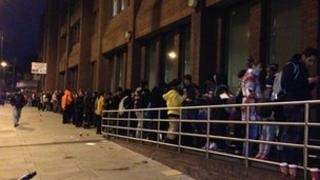 University leaders have welcomed a rule change that will mean overseas students no longer have to register in person with the police.
Last week saw students queuing in the night outside an office in London in order to meet a registration deadline.
But from Monday, students will be able to register through their universities.
Nicola Dandridge, chief executive of Universities UK, said she had told ministers the previous requirements had been "entirely unacceptable".
The change of rules will mean an end to scenes from last week that saw hundreds of students from 42 countries queuing to register at a single office in London.
Overseas image
In an effort to make sure they could get into the Overseas Visitors Records Office when it opened in the morning, students had begun to queue through the night.
Both student union leaders and university representatives had strongly condemned the situation facing these students newly arrived in the UK.
From this week, students will be able to submit forms through their universities or collect pre-stamped forms from the Overseas Visitors Records Office and return the completed forms by the end of the year.
"This decision means that international students will not face the prospect of queuing again through the night to register with the police," says Ms Dandridge.
The prospect of such queues had once again raised concerns about damage to the UK's international image as a welcoming destination for overseas students.
The income from overseas students has become important to UK universities - with overseas students often paying much higher fees than their UK counterparts.
But there have been tensions between the desire to attract more overseas students and wanting to clamp down on the misuse of the student visa system.
London Metropolitan University became the first university to be stripped of its right to recruit overseas students - a decision that is being contested by university.